Glovers Spice Boys was the most impressive team on show during the opening of the Waggy T Super Knockout Football Tournament last weekend at the National Stadium. The team comprised mainly of students of the St Georges University, looked compact, composed and fluent, getting the better of Gouyave FC 2-1, in the final game last Sunday at the National Stadium.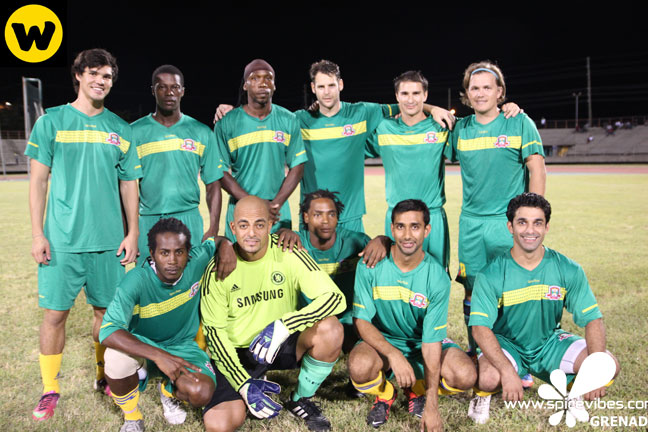 In fact, they had to come from behind, after the more fancied Gouyave FC, had taken the lead after a goalless first half. Garth Thomas headed the St John's outfit into the lead in the 42nd minute, one minute into the second half.  But Glovers Spice Boys were not daunted. They pressed on matching their opponents play for play. The good work rate paid off in the 68th minute when Micah Steven got the equalizer from an enterprising four-pronged move, which began just outside the penalty area.
And Micah Clark gave them the initiative eight minutes later, when he skillfully headed home a well taken corner. It was certainly a commanding display by Glovers Spice Boys with Mark Raffles being a rock in the central defense. In the earlier game Sunday, Mt Ritch FC outplayed Elcicy's New Hampshire 3-0, in a game they controlled from start to finish. They took the lead as early as the second minute through Rickson Phillip and Nandy Bernard double it with a header in the 25th minute. Claude James ensured the victory scoring in the 37th minute, to give the St Patrick's outfit a comfortable 3-0 lead at the interval.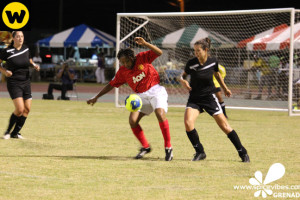 Meanwhile, SGU Knights ladies got off to an encouraging start on Saturday, beating Petro Caribe Queens Park Ladies 1-0 in the opening game. Striker Genevieve Devany hit the winner in the 10th minute in what turned out to be an evenly contested affair. Queens Rangers ladies had a golden opportunity to draw level; but striker Sabrina Richards missed from the spot.
In the Northeast derby that followed, Combined Northerners staged a gallant fight back to beat Spice Basket Marvalites 3-2. Marvalities had the better of the exchanges in the first half leading 2-0, thanks to a brace from Roma Frank. But they faded in the second period; and Combine Northerners took advantage to hit back with goals from Jeremy Lewis in the 60th, Rodney Louison in the 62nd and He Henson McIntyre in the 71st minutes.
The action continues weekend with five matches. There is a double- header Friday when Petro Caribe Queens Park Ladies tackle Happy Hill Women Strikers in the opening game from six o'clock. Game two later on, matches Real Old Men and Forde Happy Hill. Twenty-eight men's teams and six women's outfits are competing in the 2013 Waggy T Super Knockout Football Tournament, which carries prize money of EC$90,000 dollars. Approximately 40,000 dollars are earmarked for the champion team.