SJC Retains Culinary Title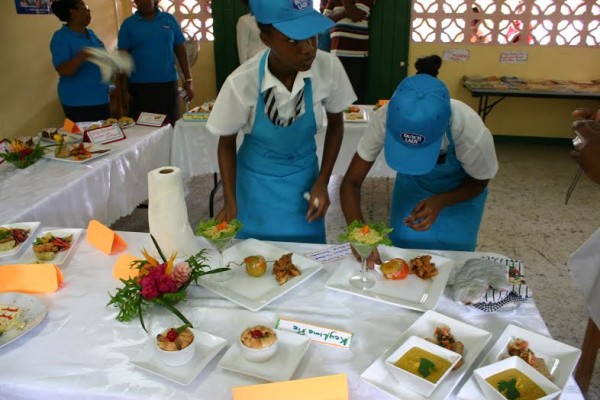 Students from the SJC who were part of the winning team
They first did it in 2012, and in 2013 the team from St. Joseph's Convent, St. George's was again declared the winner of the recently held "Dutch Lady" Milk Secondary Schools Culinary Competition with 122.5 points, getting to keep the Challenge Trophy for another year. 
In second position was St. Andrew's Anglican Secondary School with 117 points, and third was St. Rose Modern Secondary School with 96 points. Ten schools participated in the competition which was one of three activities coordinated by Hubbard's, the local distributor of "Dutch Lady" Milk. The competition was organised as part of a campaign aimed at educating young people about the importance of milk for their growth and development and by extension about the various ways that milk can be used other than for drinking.
Mrs. Meryl Lord, District Officer from the Ministry of Education, was very pleased with the outcome of the activity and said "the competition encourages the schools to do better in the culinary arts". The participants in the competition are form five students who have signed up to write the CXC Food and Nutrition 2014 exams.
Mrs. Pamela Courtney, Curriculum Development Officer in the Ministry of Education with responsibility for Home Economics said, "the objectives of this competition were to enhance students' preparedness for the CXC Practical Food and Nutrition Examinations, and to build self confidence in students and improve their culinary skills."
Mrs. Margaret Roberts, Manager of Hubbard's Agency Department expressed great satisfaction with the outcome of the competition this year and the high level of skill and creativity displayed by the students in the preparation of their dishes. Mrs. Roberts also promised to continue with this competition and said "at Hubbard's we have seen it is having a positive impact on the students. Our dream is that all secondary schools will participate in the 2014 competition". She explained that the first competition saw six schools participating, but this year there were ten, so interest is growing and it is just a matter of time for all schools to enter the competition. She said, "we saw an almost 100% increase in schools participation for 2013". She ended by saying "Hubbard's is committed to assist in the development of the nation's youth which is part of our social responsibility".
Apart from the culinary competition, the educational aspect of the promotion for 2013 also involved poetry and essay competitions for students of both primary and secondary schools that received the approval of the Ministry of Education.
The winners of the poetry and essay competitions will be announced at the launch of the 2014 promotion which will be held on 23 January 2014. For the first time a representative from FrieslandCampina Export, producers of Dutch Lady Milk will be present to witness the launch. The representative along with senior management of Hubbard's will present prizes which include electronic items, certificates, bag packs and gift vouchers to the winners.