Axcel Internship Tackles Youth Unemployment
Since the official opening of its Grenada branch on 7 April 2014, Axcel Finance is making a dent in youth unemployment in a small but significant way. Axcel commenced hosting its internship programme for secondary and tertiary level students, a programme which is in its second year in other islands of the Eastern Caribbean where the company operates.
Last year, Axcel hosted several college interns in their other regional branches among them, a Spanish student from Brussels who is studying for a Masters Degree in Microfinance. He got a chance to work with Axcel clients and conduct market research.
This year several students across the region joined the internship programme, which provides them with practical skills for the workplace and prepares them for careers in the field.
Commenting on the experience thus far, the first student participating in the programme in Grenada, Emily Bell said: "I always thought internship involved boring, menial duties like making tea and coffee, but at Axcel Finance I am being taught every aspect of the day to day operations. I am learning a great deal in the short time since the programme began and would welcome the opportunity to join the company as a permanent staff member in the future."
Axcel CEO, Sam Rosenberg said, "We are proven time and time again to have exceptional talent in secondary school and college, here in the Eastern Caribbean. The private sector needs to do more to open its doors, and help train and mentor the abundance of talent of our young persons. Our internship programme provides an incredible opportunity to these bright young individuals to work with our regional management team to hone their skills and begin an exciting career."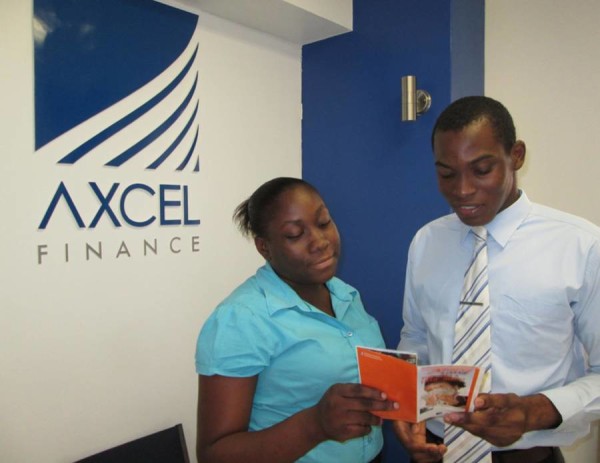 The internship programme, directed by the Regional Human Resources Director, Celia Roberts, provides the students a hands-on work experience in the fields of human resources, credit management, collections, and marketing. Bell is pursuing an Accounting Clerk certificate at the T A Marryshow Community College. She noted, "I think the most important lesson I would take away from Axcel Finance is the quality customer service, professionalism and confidentiality that the company prides itself on."