Scubaverse Videos On Grenada Dive Sites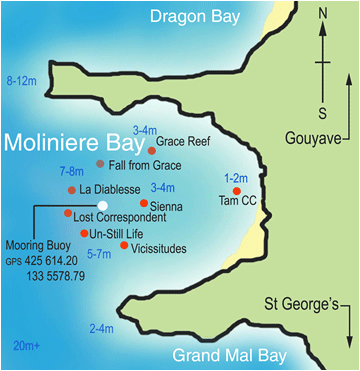 The Grenada Tourism Authority (GTA) is happy to share video interviews from a recent Dive Familiarisation (FAm) Trip, produced and hosted by Scubaverse, a top worldwide online diving website, that caters to all diving needs, including news, travel, equipment and marine life and conservation.
Journalist Jeffrey Goodman represented Scubaverse in Grenada, and was among 7 other dive journalists and sales representatives brought to experience Grenada and its attractions, from 28 May to the 4 June. They were accommodated at The Grenadian by Rex Resorts, True Blue Bay Resort, Blue Horizons Garden Resort and Mount Cinnamon. The GTA facilitated all logistics and details of the trip. Roger Augustine, Marketing Executive guided the agents and journalists throughout their stay.
The group visited some of the main dive sites in Grenada:
– with Peter & Gerlinde Seupel, Aquanauts Dive Shop, (True Blue Bay Resort)
MV Veronica
Purple Rain
Shark Reef
Kohanee
Shakem
Black Forest
– with Adrian Blackman, Native Spirit Scuba Shop, (Radisson Grenada Beach Resort)
Hema 1 wreck
Bianca C
Moliniere Buccaneer Wreck
Underwater Sculpture Park
Flamingo Bay
They also made site visits to various attractions around the island:
Concord Waterfall
Gouyave Nutmeg Processing Station
Petite Anse Hotel
Belmont Estate
River Antoine Rum Distillery
Grand Étang National Park and Forest Reserve
Cricket Museum (Spice Basket)
Video Links
1. Sola Thomson, Account Manager, GTA (UK Office) http://www.scubaverse.com/2014/06/16/sola-interview/
2. Nikoyan Roberts, Manager of Nautical Development, GTA http://www.scubaverse.com/2014/06/17/scubaverse-talks-nikoyan-roberts-manager-nautical-development-grenada-tourism-authority/
3. Paul Ward, Manager, Aquanauts Grenada http://www.scubaverse.com/2014/06/18/scubaverse-talks-paul-ward-manager-aquanauts-grenada-true-blue-bay-resort/
4. Marcelina Jesus, Ultimate Diving Grenada http://www.scubaverse.com/2014/06/19/scubaverse-talks-marcelina-jesus-ultimate-diving-diving-grenada/