St Rose Modern Secondary School is the JA Company of the Year, with their company, 'Tropical Madness'. The eagerly awaited graduation and awards ceremony of the Junior Achievers 2014 took place on 29 May at the Charter Hall, St George's University (SGU).
The graduation and awards ceremony was the climax of an intense period of competition as 15 schools throughout Grenada created their own businesses, and competed against each other to earn the coveted title of Junior Achiever, Company of the Year 2014. Among the distinguished attendees were Governor-General Dame Cécile La Grenade, Minister for Tourism Hon Alexander Otway-Noel, US Chargé d'Affaires Louis Crishock, and guest speaker Afi Ventour.
The JA Company of the Year 2014 award went to St Rose Modern Secondary School. Their 'Tropical Madness' company swept the board by also being adjudged winner in four other categories including Most Outstanding Business Plan, Trade Fair Winner, Most Outstanding Booth and Best Customer Service Company. Their outstanding achievement, coinciding with them winning for the first time ever, deposed the previously undefeated St Joseph's Convent St Andrew's, whose 'RecycleMania' nevertheless achieved an amazing second in three of this year's categories.
In recognition of St Rose Modern's outstanding achievement, they will represent Grenada in Ecuador, at the JA Championships. Jessie Cumberbatch, Executive Director for JA Grenada, spoke effusively of the excitement and delight at seeing the high standard of business acumen achieved by all companies.
Chairman of the Junior Achievement (JA) Committee Bernhard Antoine, congratulated the students that took part and stated, "These young people are the reason why everyone has made the time and commitment to be at this year's award ceremony. Your presence is testimony that all participating in the JA programme have completed something significant and which deserves to be recognised by their peers and others in the business community." He also made special mention of the consultants whose expert guidance was pivotal in facilitating the outstanding accomplishments of each participating company.
Hon Alexandra Otway-Noel, representing the Prime Minister said, "I share with you the thoughts and sentiments of the Prime Minister that our youth are the country's most valuable resource. There is no other option but to assist them to succeed. Neither they or us should dim the light in our nation's youth but should rather provide a sustainable environment and prospects that allow for realisation of the vision, whereby we create entrepreneurs one child at a time."
She further stated that the JA provides an invaluable partnership to government in forging a path for the future of the nation and that all should be proud that participants have embraced the opportunity to move forward in a positive way. She concluded by encouraging all participants to continue to aim high and reach for the stars.
Guest speaker Afi Ventour of the law firm Afi Ventour & Co, formally congratulated and recognised every graduate in the programme. In an inspiring and motivating speech, she challenged students to aim to become employers and not employees; to not be content to sit and wait on hand outs but to do whatever was necessary to become capable business persons.
She noted that as an employer, she was on the lookout to employ young people who were driven and brilliant. Citing her own case, she shared her experiences of starting her own company four years ago. Highlighting her blueprint for success she urged the following, "Do get a good and sound education. Form good and lasting friendships. Begin now to think about being your own boss. Don't be afraid and don't give up when the going gets tough. Don't blame anyone else if a venture fails and certainly, refuse to be distracted by those who may try and discourage you."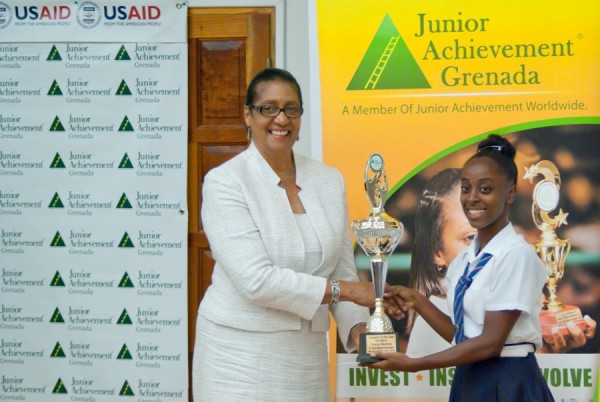 Master of Ceremonies Stephen Jerome, singled out the Grenada Boys Secondary School, GBSS, for their initiative in giving enhanced visibility to JA by design of tie stickers. Dame Cecile presented GBSS Design Tech Company with the prestigious Sales Company of the Year award.
CIBC FirstCaribbean International Bank, sponsor of the business 'RecycleMania'' only recently signed a three -year memorandum in support of JA across the Caribbean, with SGU as the platinum sponsor for Grenada. Country Manager Nigel Ollivierre said, "I wish to congratulate St Rose Modern Secondary school for their outstanding achievement in winning not only the Company of the Year, but for the other successes they achieved. On behalf of CIBC FirstCaribbean International Bank, I am delighted to see the application and the exciting achievements of all participating companies. It is exactly the vision the bank had in mind when deciding to sign the memorandum for continued sponsorship of JA. We remain committed to a strategy that will see us invest and support the development of future company leaders through patronage, mentoring and providing support to help them achieve their manifest potential."
The JA Committee thanked all teachers and awarded each with a certificate of appreciation. The award category of Most Outstanding Teacher went to Martin Alexander of Grenada Boys Secondary School. The winner of Outstanding Consultant Award was Max Harleman of MacDonald College sponsored by the United States Peace Corp. All students were congratulated on their achievements and great business ideas.
Most Outstanding Business Plan
Winner: Tropical Madness, St Rose Modern Secondary School
2nd: RecycleMania, St Joseph's Convent, St Andrew
3rd: NewGen Crafts, St Andrew's Anglican Secondary School
Most Outstanding Booth
Winner: Tropical Madness, St Rose Modern Secondary School
2nd: Reinkarnation, Presentation Brother's College
2nd: RecycleMania, St Joseph's Convent, St Andrew
3rd: Design Tech, Grenada Boys Secondary School
Overall Winner – Trade Fair Winner 2014
Winner: Tropical Madness, St Rose Modern Secondary School
2nd: RecycleMania, St Joseph's Convent, St Andrew
3rd: Reinkarnation, Presentation Brother's College
Best Customer Service
Winner: Tropical Madness, St Rose Modern Secondary School
2nd: Styles Unlock, St Joseph's Convent, St George's
3rd: Design Tech, Grenada Boys Secondary School