Grenada has signed an agreement with China that will ensure that nationals from each country who commit crimes, will not use either country as a safe haven to avoid persecution.
"Grenada is the first Caribbean country to initial the treaty on mutual legal assistance in criminal matters and treaty on extradition with China," Ambassador Ou Boqian informed government and other decision makers, while addressing a ceremony to observed the 65th Anniversary of the Founding of the People's Republic of China.
Grenada already has Mutual Legal Assistance Arrangement with a number of countries including the USA, UK and Commonwealth nations. The ambassador said that Grenada is also the first Caribbean country to reach the agreement in principle of mutual visa exemption for holders of all categories of passports.
Held last week Tuesday at the Ambassador's residence in True Blue, the event celebrated the achievement of China during the past 65 years, and highlighted some of the success stories of the Chinese people.
"We have deepened our fraternal friendship through practical cooperation. The first patch of Low-Income Housing is ready to be assigned to the Grenadian people and more houses will be built for the beneficiaries. The St Mark's River mitigation project has alleviated flooding in the rainy season for local people," she told the invitees which included Governor General Dame Cecile La Grenade and former Governor General Sir Daniel Williams.
"The Athletic Stadium Restoration and Reconstruction Project is making good progress. The National Stadium which has been maintained and refurbished by Chinese aid since 2010, has successfully held nine regional and international cricket matches this year. The Chinese agriculture mission in La Sagesse continues to focus on the grassroots to improve their agricultural productivity."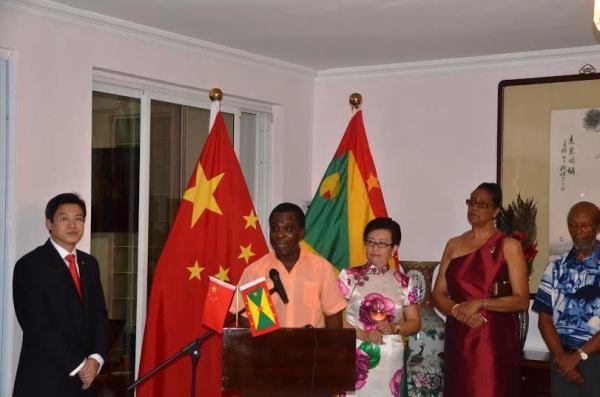 Ambassador Ou said that more and more Grenadians go to China to attend the training courses or to study at various universities. "China values this relationship and will continue to promote friendship and bilateral cooperation. The year 2015 will be the 10th Anniversary of the resumption of China-Grenada Diplomatic relationship. Big celebrations will be given and a series of cultural activities will be launched throughout the year to further promote mutual understanding and friendship," she said.
Prime Minister Dr Keith Mitchell in his address said that China's model of long term forecasting and planning, and unwavering resolve and commitment to nation building, plus shared sacrifice is one that his government is determined to emulate. "As China continues to forge ahead with its own development in addressing the needs of 1.26 billion people, the Chinese People and Government have unselfishly sacrificed to ensure that over 14,000 kilometers away, 110,000 people also have a fair chance at development," he said. "However, through the resolve of its people and the astute leadership of the Chinese Government, China has retaken a position of prominence in global affairs. Without a doubt, the PRC's success story vindicates my government's decision to observe, and to commit, to the One China Policy."
By Linda Straker