MWAG Statement on World Press Freedom Day 2016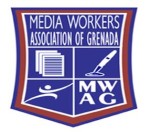 As we observe another day designated as World Press Freedom Day, which was proclaimed by the UN General Assembly in December 1993,I urge us all to pay particular attention to the 2016 theme, "Access to Information and Fundamental Freedoms — This Is Your Right!"
In so doing, I believe the onus is on each and every one of us not to be intimidated while we pursue our career in this very challenging field.
It is important that we do not get or allow ourselves to be distracted from the real stories, the real issues that matter most to businesses, politicians or the government of the day.
As members of the fourth estate we need to maintain that "watch dog" approach to protect the integrity of the profession we hold so dear, it must remain a free media.
So on this World Press Freedom Day, 3 May 2016, as President of the Media Workers Association of Grenada, I urge us all to be mindful of the task at hand, to be able to separate ourselves from those who may tend to offer Payola as a means of getting PR in our respective news and focus heavily on making the difference of reporting the issues as accurately as we can with sources from both sides, remembering always there is never one side to a story.
Shere-Ann Noel
President – MWAG