Dressed in Green or Yellow t-shirts with clear messages of endorsement for the various candidates, supporters flocked political rallies by the thousands on Sunday as the executive of political Parties do all what they think is necessary to encourage registered voters to give them majority votes on polling day — 19 February 2013.
The ruling National Democratic Congress supporters packed the Roy St John Playing Field in Tanteen while the supporters of the New National Party assembled at the Cuthbert Peters Park in Gouyave. For the first time both parties had endorsers addressing from the platform. Former leader of the Oppsotion was the choice for the NDC while former WTO Trade Ambassador Dr Patrick Antoine was the on the NNP platform.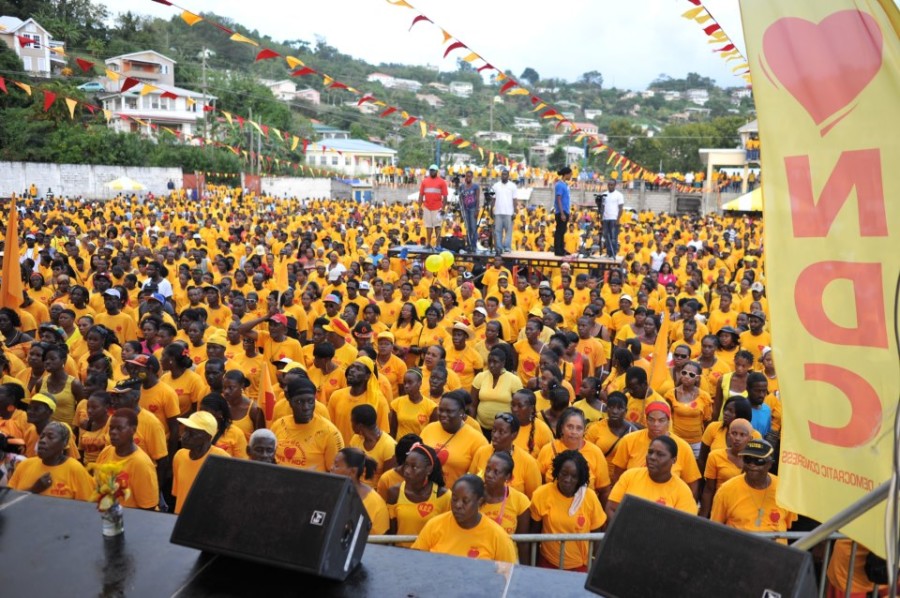 While it was not a surprise for Dr Antoine to endorse the NNP it was a surprise to see Baptiste on the NDC stage as days before he was said to be campaigning for another minority party. "We will welcome anyone who endorses our governance agenda," said PM Tillman Thomas as he explained that his party practices a politics of Inclusion.
While Baptiste was of the opinion that Grenada was heading in the right direction with the Tillman Thomas led NDC, Dr Antoine felt that since 2008 Grenada economy has continuously sunk making it waste years that has set Grenada behind all other Windward Islands.
"Grenada is the lower country in the Windward Island to have lowered it GDP since 2008," Dr Antoine told the thousands who had braved the weather filled the Park.
But Baptiste in his justified for claiming that Grenada is on the right track said that the NDC administration brought back sanity and respect to many institutions which according to him was divide during the period 1995 to 2008.
"The DPP got back his power, police men can now dream of becoming the commissioner of police, we now have respect for Institution," he said. "I am will do all in my power to ensure that this descent man remain in office," he promised.
As expected both leaders addressed supporters and reminded them why it's important for each one to administrate the affairs of the country for the next five years. The leaders both promised to bring activities to the countries that will result in jobs and improve standard of living thereby result in a develop economy.
NOW Grenada
is not responsible for the opinions, statements or media content presented by contributors. In case of abuse,
click here to report
.