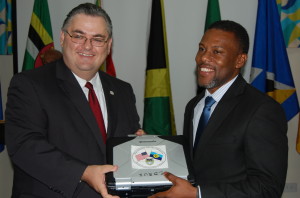 In a ceremony in St. George's on April 11, the United States Government through U.S. Southern Command (SOUTHCOM) donated US$267,000 in emergency response communication gear and other supplies for use by the Caribbean Disaster Emergency Management Agency's (CDEMA's) Caricom Disaster Relief Unit.
The donation, which came in response to a request from CDEMA, includes two disaster response deployment kits – one for use in training and one for eventual deployment – as well as manuals and other equipment.  Each disaster response kit contains four broadband global area networks (BGAN), four satellite phones, three portable 5KW generators, six laptop computers, four portable printers, digital and paper maps of the 18 CDEMA participating states, two cameras, four tents, and supplies such as crowbars, hammers, pliers, batteries, hacksaws, first aid kits and stationery.  This donation represents the latest element of continuing SOUTHCOM support for CDEMA through capacity building projects.
The emergency response equipment is already in use by the participants of a workshop being held this week for the Caricom Disaster Response Unit (CDRU), and funded by the United States through SOUTHCOM.  The CDRU is a 35-member team comprised of military, police and firefighters from the Caricom member states. The Unit is mobilized annually to provide relief and logistics support to any member state affected by a disaster.
Chargé d'Affaires Lou Crishock said he was pleased the 37 participants from 14 Caricom states taking part in the CDRU workshop are able to drill with the actual equipment that they would use in an eventual disaster response.
"As a result of this donation, and this week's workshop, CDEMA will benefit from a more robust disaster relief unit, a cadre of personnel trained and able to function as first responders during and after natural and manmade disasters in the Caribbean," Chargé Crishock said.
U.S. Embassy Bridgetown's Military Liaison Office coordinated the donation of equipment and supplies under U.S. Southern Command's Civil Military Humanitarian Assistance Program and procured through the Defense Logistics Agency.
NOW Grenada
is not responsible for the opinions, statements or media content presented by contributors. In case of abuse,
click here to report
.