The Grenada Government is reassuring Public Workers that it will pay salary increases and back-pay due to them as negotiated for the period 2009–2012.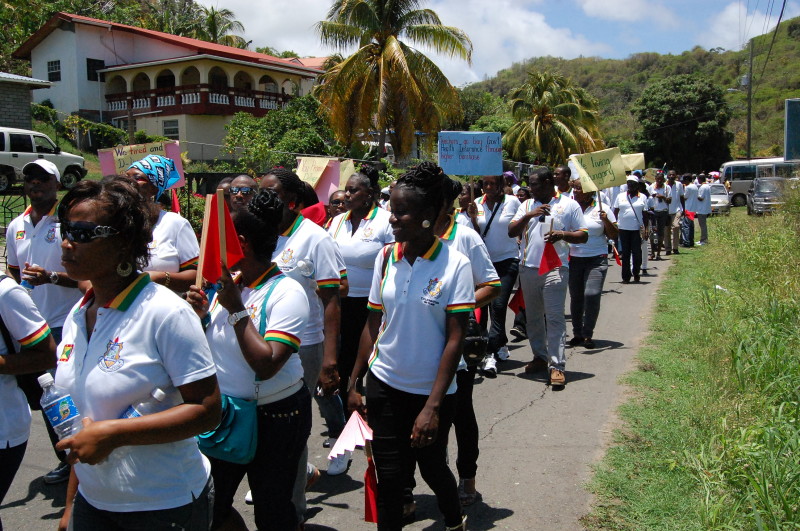 The financial plight of workers was among the issues at the forefront of the 2013 May Celebrations in St David, on Wednesday May 1.
Some 15,000 workers from the seven TUC affiliated Unions participated in the May Day Rally, marching from the Bellevue Playing Field to the Lasagesse Playing Field.
Minister for Labour Hon. Elvin Nimrod, in his first Labour Day outing, addressed the subject of salary increases and back pay.
He was responding to workers who marched enthusiastically while loudly chanting "pay us we money and vex with us'. Minister Nimrod assured them that government not only intends to pay what is owed to public workers, but to also maintain a cordial relationship with them. "This present administration will give you your money and remain friends with you", he said to mixed reactions.
The Labour minister told the enthusiastic workers that the payments will have to be made over a longer period of time, given the tight economic climate facing the country.
"I wish you would appreciate the fact that we have one national pie that must be carefully and consciously divided among all the sectors of the country; and so while we are willing to meet you half-way, you must be willing to meet us half-way as well", he said, appealing for their understanding.
"We want to say to you this afternoon that we honour and acknowledge our obligation to pay you your back pay and increases; but we have to do that within the constraints of our financial ability", he said again to mixed reaction; but assured workers that it will happen. "It will happen and it will happen more quickly than you believe", an upbeat and animated Labour Minister stressed, promising them as he put it that "part of the deliverance is coming".
He said that Wage Negotiators have been appointed; who have been meeting with Union representatives to ensure that government delivers on its obligation, and also to make sure that workers understand that shared sacrifices are needed for the benefit of all of our people. Minister Nimrod did not give a time frame for payment; but assured workers that that government's obligation to them will be met in a timely manner.
"Government recommits to honouring its financial obligations to you the workers of Grenada, Carriacou and Petite Martinique by providing in a very timely manner, and within the constraints of the present economic situation, your back-pay and salary increase", the Labour Minister promised.
Nimrod welcomed the theme of the celebrations "Creating a new Environment for the Social and Economic Advancement of Workers", and commended workers on the spirit of goodwill and patriotism exhibited.
Government Information Service
NOW Grenada
is not responsible for the opinions, statements or media content presented by contributors. In case of abuse,
click here to report
.