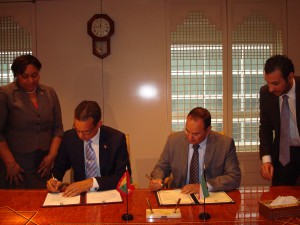 Honourable Nickolas Steele, Minister for Foreign Affairs of Grenada, has signed a Joint Communiqué with H.E. Mr. Mansour Ayyad SH Al-Otaibi, Permanent Representative of the State of Kuwait to the United Nations, formalizing Diplomatic relations between Grenada and the State of Kuwait.
Minister Steele congratulated the State of Kuwait on its 50th Anniversary of membership to the United Nations, which was celebrated on Wednesday, 14 May 2013.
Grenada –Kuwait relation was mainly through the Kuwait Development Fund for the Feeder Roads Project, which was stopped but has now being restarted.
Other possible areas of collaboration discussed include, continuing collaboration through the Kuwaiti Development Fund and the Kuwaiti Investment Authority, which has been investing primarily in the United States of America and Europe, but is now looking to invest in other Regions of the world.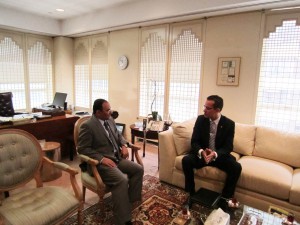 Plans were also discussed with a view to connecting Grenada to the Private Sector of Kuwait, initially accrediting the Grenada High Commissioner to London to the State of Kuwa, and the Kuwaiti Ambassador to the Bolivarian Republic of Venezuela to Grenada.
The Grenada Foreign Minister and the Kuwaiti diplomat also discussed the opening of a Grenada Diplomatic Office in the State of Kuwait ,or in the Gulf region, and reciprocal support within the United Nations for each other's aspirations.
The State of Kuwait has submitted its candidacy for a seat as a non-permanent member of the United Nations Security Council for 2017.
Honourable Steele was accompanied by Mrs. Marguerite St. John-Sebastian, Counsellor/Charge d'Affaires, a.i. of the Permanent Mission of Grenada to the United Nations.
Also present at the signing was Mr. Abdulaziz Aloumi of the Permanent Mission of the State of Kuwait to the United Nations.
Government Information Service
NOW Grenada is not responsible for the opinions, statements or media content presented by contributors. In case of abuse, click here to report.