'A Combination of Creativity and Culture'
This year's Huggies Tiny Tots Masquerade was unquestionably a memorable experience for the young ones and adults alike who attended the event. Last Saturday, forty participants ranging from the tender age of 3 months to 3 years old masqueraded on the red carpet runway at the Grenada Trade Centre. They were either in the arms of their proud mothers or walked bravely on their own in front of an experienced four panel judge and hundreds of spectators.
The winner of Huggies Tiny Tots was Olafemi Gill of River Sallee, St. Patrick. He captured the hearts of the judges and audience alike with his energetic portrayal of the traditional mas' figure the 'Shortknee' and was able to amass a total of 276 points. Olafemi did not show any fear or shyness as he vibrantly threw powder in the air and everywhere else he possibly could, while chipping down the runway in his eye catching costume. It therefore was not a surprise when he also won the Best Carnival Spirit Category. At the end of the evening the two year old went home with the coveted winner's trophy, 1 case Huggies Diapers, 2 cases Huggies Wipes, 2 hampers and of course 'bragging rights'.
Olafemi's father was inspired to enter his son in the competition because he wanted him to have an appreciation for the traditional aspect of carnival and Grenada's culture from a very early age; hence Olafemi's portrayal of the 'Shortknee. Olafemi's mother stated that she and her family are proud and thrilled that Olafemi won. According to her, Olafemi is loved by the villagers and the residents of St. Patrick are happy that the winner emerged from their parish and are also hopeful that this is the beginning of more victories to come for this Carnival season.
Placing second in the masquerade was the adorable Shyheem Kiefer James of Grand Anse who portrayed a 'Wild Indian'. He was decked off from head to toe in his tribal wear which included a feather headpiece, animal print outfit, wooden accessories and even paint mimicking tribal marks. Capturing 3rd position was the pretty 2 year old Akeeda Phillip of Green Street portraying 'Tribute to Pan'.
There were also some special category winners. The Best Costume was won by Josiah A. Francis of Woburn with his clever portrayal of 'King Crab'. The costume was designed by Sherry Bhagwan. Sherry is a teacher and came up with the idea coincidentally after teaching about crabs on the very day that Josiah's mom was brainstorming for ideas for her son.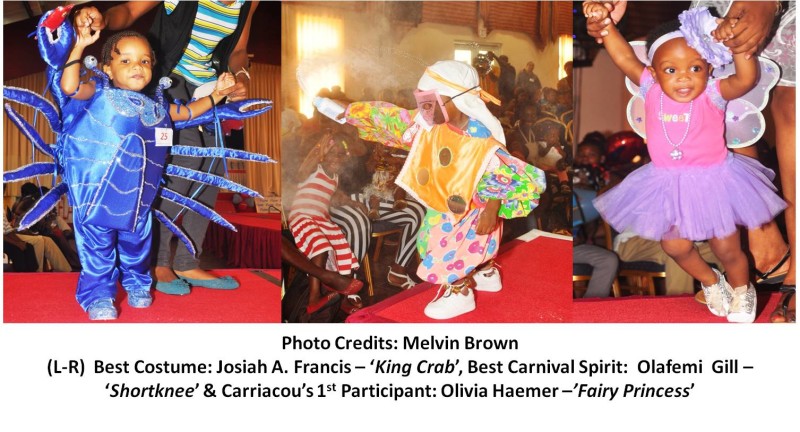 The youngest boy and youngest girl participating were 3 months old Nedon George of Gouyave and 6 months old Kelisha Mitchell. The first participant from Carriacou was 10 months old Olivia Haemer who portrayed the 'Fairy Princess'.
Apart from the kids who had their moment of fame and fun onstage, all the young ones were able to go home happy. There was not a minute that the bouncing castle was not filled with little smiling faces and the fun did not stop there. The kids got their faces painted while carefully holding on to their favourite cartoon character balloon and customised balloon sculptures. According to several kids, their favourite part of the event was taking photos with the event mascot 'The Stork'.
Amidst all the excitement, the youngsters were able to indulge in some free product samples. Parents were also able to purchase Lucozade at the special '3 for $10.00' price. Persons were also rewarded with a chit to get a free ice cream at Yum Yum Cafe. After the masquerade, persons could be heard saying how much they enjoyed the evening. They went on to share their amazement at the level of planning and organizational skills that was executed and were grateful for the generosity that was meted out to persons who were present.
The kind sponsors were Spiceland Mall International, FLOW Grenada and George F. Huggins Distribution Division — Distributors of Universal Cereals, Fruta, Fruta Kool Kids, Lipton Teas, Elle & Vire Dairy products and Huggies and Huggins Pharmaceutical Division — Distributor of Lucozade.
NOW Grenada
is not responsible for the opinions, statements or media content presented by contributors. In case of abuse,
click here to report
.