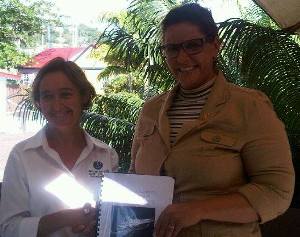 An economic impact of the yachting sector conducted from May 2012 to April 2013 shows that the sector's net contribution to Grenada was EC$130 million, and the area of repairs and maintenance receiving 25% of the amount.
The study was made possible through a grant award to the Marine and Yachting Association of Grenada from CARTFund which was administered by the Caribbean Development Bank. MAYAG worked as the facilitator, with consultant Dr Andre Henry and guided by the Central Statistical Office and the Grenada Board of Tourism.
A further breakdown shows that boatyard fees is 16%; provisioning 13%; dining, entertainment and accommodation 12%; fuel, water and power at 12%; marina fees 12%; charter cost 4%; onland  transportation 2%; government fees 2%; communications 1% and medical services 1%.
President of MAYAG, Anita Sutton said that in order to develop a model based on accurate and up to date data, the study encompassed three surveys — of yachts themselves, business establishments who wholly or partially provide goods and services and individuals who work direct for yachts independently.
"Yachts provided data on their spend in Grenada over the last year, berthing, boat repairs and maintenance, provisioning, electricity, medical services etc," she said, while explaining that data included information from charter yachts, those visiting Grenada as part of a Caribbean Sailing season, yachts which came specifically for sailing regattas and rallies, yachts which see Grenada as their home port and super yachts.
The process included interviews in person and provided an online survey facility to include the many yachts which remain in Grenada whilst their owners return home. Business establishments provided information on their spending on utilities, insurance, wages and employment figures.
Sutton said that the category of independent yacht workers included Grenadian captains, day workers, technicians, cleaners and varnishers, who provide their services and in some cases regionally and internationally.
The report, which was presented to Tourism Minister Alexandria Otway-Noel on Tuesday during a presentation ceremony at Port Louis, also shows that 912 persons are directly working in the sector. "In terms of employment, the study estimates that yachting contributes 912 jobs. The World Travel and Tourism Council estimates that the total employment contribution of tourism to Grenada is 9,500 — so yachting accounts for about 10% of the tourism total," said Sutton.
Among the recommendations in the report, is to put the structures in place to ensure that Grenada's position retention is retained in the Caribbean and International yachting arena and development of the industry, to provide further economic and employment benefits.
The study shows that long term yachts spend on average EC$54,000 and recommends directing marketing towards that sector. It is also recommended that Grenada develop its technical skills and capabilities to increase spend per yacht on the basis that "if we can fix it they will come."
Tourism Minister Otway-Noel said that her Government is committed to working with the Marine and Yachting Association to achieve increased opportunities for employment in the sector through technical skills training and certification; to improve the yachting experience through greater ease of movement between St Vincent and Grenada; and to further explore the potential for a single regional yachting space.
NOW Grenada
is not responsible for the opinions, statements or media content presented by contributors. In case of abuse,
click here to report
.