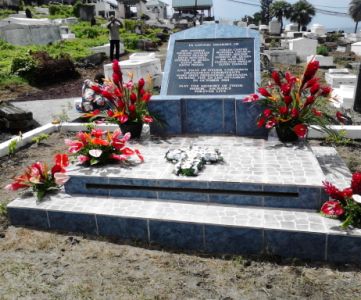 Thirty years after they were buried without a traditional funeral and burial service, a headstone was last week Friday unveiled with the names of the 13 Grenadian soldiers of the former People's Revolution Army who died defending Grenada when US soldiers invaded in 1983.
Their bodies were mistakenly sent to Cuba following the US Invasion of Grenada. However, after conducting the necessary identifications of bodies, the Cuban Government discovered that they were the bodies of Grenadian soldiers and returned them to the country.
"Before sending them back the Cuba Government paid them they respect as soldiers who died defending Grenada and the revolution, but when they arrived here, the interim government, at the headed by Nicholas Brathwaite, handed the body over to the undertaker who buried them at 3:00 am in the morning," said Peggy Nesfield, who over the years has singlehandedly on most occasions held a memorial event for them every 25 October.
"They were soldiers who died defending the country and we should treat them with respect regardless of who was the Government at the time," said Ashley "Ram" Folkes who this year spearheaded the project in which there is now a monument and a headstone where the soldiers were unceremoniously buried.
For the first time since the invasion, the National Celebrations Committee recognised the burial ground of the 13 soldiers and Prime Minister Dr Keith Mitchell laid a wreath on behalf of the country, while members of the 19 October and Martyrs Foundations paid their respect and shared memories at different times during the day last week Friday.
"It took us 30 years to have this, so I am hopeful that in the future we will not only have this headstone which is the site where they are buried, but a monument in their honour, maybe in another place where it will be more visual," said Folkes, who is not ashamed to accept that he served in the People's Revolutionary Army and his body could have being one among the 13.
There is a monument at Maurice Bishop International Airport to remember the US soldiers who died during the invasion, and every year there is a special ceremony for them, both at the monument and at St George's University where a second monument is located.
It has being revealed that former National Democratic Congress Government had a cabinet conclusion which calls for building a monument somewhere on lands close to the airport to recognise the Grenadian Soldiers. The airport at the time was under construction and was the location much of the military fighting during the invasion.
by Linda Straker
NOW Grenada
is not responsible for the opinions, statements or media content presented by contributors. In case of abuse,
click here to report
.