Monday 7 October 2013, TAMCC, St Georges. Tourism remains one of the largest and key sectors in Grenada and the livelihood of many Grenadians and citizens across the Caribbean.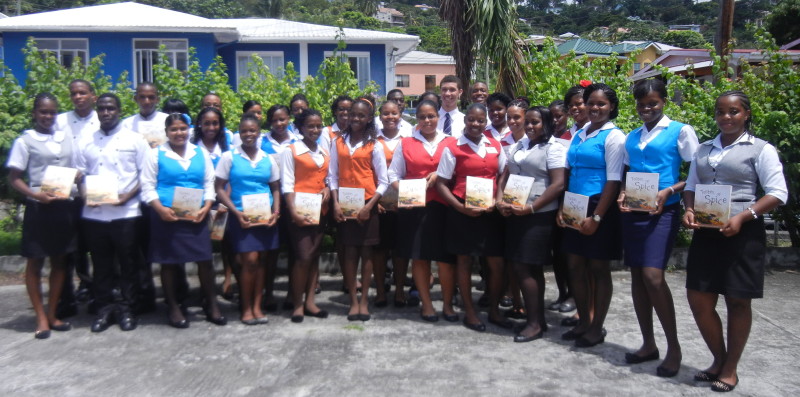 It is with this in mind, that AllyDay Creative Projects Ltd., one of Grenada's leading marketing and graphic design company's, donated over two hundred and fifty cookery books to students of the TAMCC Department of Tourism and Hospitality. Aptly named Tastes of Spice, this beautifully presented and designed coffee-table cookery book, features a number of international dishes using local ingredients. AllyDay believes that it will make a significant contribution to the students pursuing a career in the culinary arts and other areas of hospitality.
"AllyDay has always been an ardent supporter of Grenada and our tourism sector. Through our publications like the visitor magazine, Lime & Dine, and also Tastes of Spice, we share our passion for our country and various tourism offerings with visitors and Grenadians alike" said Dayliah Henry-Banthorpe, CEO.
At the start of the new school year in September 2013, the Tourism and Hospitality Department of the school finally accepted approximately one hundred students into the programme, after receiving over one hundred and fifty applications. With four departments — Culinary Arts, Food & Beverage Operations, Hospitality, and Nutrition & Food Management – one of the main goals of the department is to provide students with a quality education to meet the demands of the growing tourism sector.
Merlisia Polius-John, Chair of the Tourism and Hospitality Department, thanked AllyDay for their generous contribution and commented on the department. "Most of our students receive internships and often gain employment shortly after graduation. We strive to provide the best possible education for our students and have received 100% passes over the past few years. Our department caters for the needs of Grenada's hospitality industry."
Following graduation from TAMCC, due to special relationships with other institutions across the Caribbean, students are presented with options; to further studies at UWI, gain internship placement within the school's flagship programme in Barbados, or earn a professional qualification with the American Hotel & Lodging Association.
The successes of the department are encouraging and show great potential for hospitality arts in Grenada. AllyDay Creative Projects will continue to showcase our island to the world and lend support to the tourism and hospitality sectors wherever possible.
NOW Grenada is not responsible for the opinions, statements or media content presented by contributors. In case of abuse, click here to report.