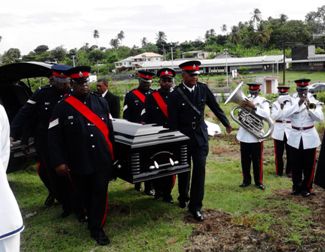 Hundreds came out for his funeral service, but just a few dozen came out to witness his burial ceremony which happened ten days after for former parliamentarian, farmer, and leader of the People's United Labour Party — Winston Frederick.
Under overcast conditions, sections of the band of the Royal Grenada Police Force led the procession from the River Sallee Junction to the cemetery to his final resting place. "The man was a big man in the society, you aint see what he getting," said a passerby who stood in admiration as the music from the band and the military parade reminded the community that there goes a man who made his contribution to the development of Grenada at the highest level — the parliament.
The 70 year old Frederick who served as parliamentarian from 1990 to 1995 died on 24 September, was scheduled to be buried on 11 October following the official funeral service which was attended by a number of persons including government ministers, senior public officers and former parliamentarians.
However, during the service an officer from the court served the undertaker and pastor court documents, which showed that the court had granted an injunction which was filed by two of his children to stop the burial.
The children who reside in the US were seeking the court's approval for the body to be buried next to his wife whose final resting place is a cemetery in New York City. His wife died in the US and was buried there, and the children who filed the junction were claiming that both parents should be buried next to each other.
Arguments in the matter was initially heard in the Court on Monday 14 October, which ended with a recommendation to mediation and a final hearing date in court on 17 October at 2 pm. After almost four hours of private presentations in the Judge's chamber from lawyers, children and other associates, the Judge ruled that Frederick would be buried in Grenada on Monday 22 October.
Frederick moved to the US in 1995 after losing his bid to return to the parliament as a candidate for the Grenada United Labour Party (GULP). He returned in 2005 and openly supported the New National Party (NNP), but within months launched the minority Peoples United Labour Party (PULP). Frederick was the only candidate for the 2013 general election and received a total of 11 votes.
"We are pleased with the ruling of the court… we believe he will be at peace here at home under the blazing sun," said his son Winston Frederick Jr.
by Linda Straker
NOW Grenada
is not responsible for the opinions, statements or media content presented by contributors. In case of abuse,
click here to report
.