Diary of Nathan Dennis Samuel: 1950 
Part One
Sat 9 Jan: This diary was given to me by Byron.
Thus began the first entry in the Lett's Desk Diary 1950, kept by my grandfather, Nathan Dennis ("ND") Samuel. On that first day, after noting that the diary was a Christmas present from his middle son Byron, ND went on to record how he had "sold 2,055 lbs Cocoa without polish to V. E. Clarke at 43¢ per lb = $883.65"; plus other daily minutiae of running a small agricultural estate in Perdmontemps, Saint David, in the Crown Colony of Grenada.
My grandfather's diary from the year 1950 lay undisturbed in the bowels of the house he built, Montrose, for well over half a century; until building renovations brought it to light. And what a fascinating find it turned out to be for us his descendants: priceless. I don't know if it was the first, last or only year that ND kept a diary, but he couldn't have found a better year to record events. In his personal life; ND wrote pithily of the inevitable squabbles of any far-flung family ("Wilson Samuel call and complain that Violet and Sibyl are making his father's house a brothel"), the homecoming of his youngest son and, sadly, a personal tragedy from which he never fully recovered.
In his business life; ND was assailed by grasping merchants, thieving employees and a court case that just grew and grew. ND also records the tumultuous rise to power of one Eric Matthew Gairy, trade union leader and future prime minister (some would say dictator) of Grenada. Finally, ND wrote of the goings-on in the community around him; he was an avid courthouse attendee – and an inveterate gossip! "A girl made a child, kill it, cut off its head, 1 foot and 1 hand. She is arrested."
Everything happened in 1950, and ND recorded it all in his neat, organized hand. In the manner of the times, men were supposed to be, well, men. Not flighty or flowery but … solid. Hence, ND's 8,930-word diary is long on trivia and short on emotion. It is only by reading between the lines, sometimes literally, that we get a glimpse of the real ND; a hint at the feelings that even he couldn't keep hidden.
As 1950 opened, ND Samuel, "peasant proprietor" as per his son's birth certificate, was in his 79th year, still possessed of all the physical and mental strength that had seen him become a substantial landowner; no mean feat for a black man in colonial Grenada. ND's beloved Montrose Estate consisted of one whole valley along the Eastern Main Road in the parish of Saint David's, underneath the volcanic cone of Morne Gorzeau (Mongozo).
According to his letterhead, N. D. Samuel & Sons were exporters of "Nutmegs, Mace, Cloves, Cinnamon and Cocoa Beans". Plus bananas, breadfruit, pigs, chickens and just about anything else that could grow and sell. In addition there was the rum shop on the corner, where it still stands today, and a stone oven out back where ND baked the freshest bread in Perdmontemps.
Wed 11 Jan: I sent a letter to the Nutmeg Pool protesting against account sale of nutmeg & mace, enclosing Debit Note for $184.91. I refused to acknowledge this document, in which was stated my nutmeg was sold for $18.32 per lb and mace for 49c. I wrote & posted letter immediately.
Like most West Indian men, ND had several children – inside and out. Lingham, his eldest son, lived in Grenada and worked as an electrician at the Grenada Electricity Commission; Byron, his middle son, owned a school in Trinidad; and youngest son Darwin was approaching the end of a ten-year stint in England. ND had almost finished building his new family home, Montrose House, an imposing concrete structure situated on a breezy ridge, with panoramic views of both the Atlantic and Caribbean coastlines.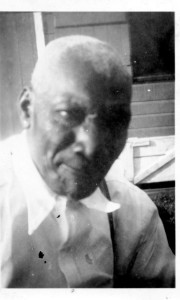 Sat 21 Jan: Byron on driving Lingham's car collided with Hessie's bus in Cosy Corner, car was badly damaged. Hessie's bus apparently at fault. Police may make a case. A police came here seeking to find the person who brought stolen Cocoa at La Femme.
In the parish of Saint David's and beyond, ND Samuel clearly was a man of substance. Montrose Estate, while not a gold mine, provided a decent enough living and employed a fair amount of people in the immediate vicinity. He was vocal in farmers' organizations and later in the year was elected to the Managing Committee of the Nutmeg Producers' Protective League.
Sat 4 Feb: I sent a letter to the Nutmeg Pool by post demanding that a fuller a/c sale be given to me, else I will take legal proceedings.
On Monday, 23rd January, ND makes a seemingly innocuous entry: "Gordon Etienne sold 212 lbs Cocoa I paid him at 1/- per lb, retaining a balance of four pence (4d) per lb until he brings his sellers book as arranged." Clearly all was not right with this transaction, and ND held back a portion of the money until Etienne brought in his sellers book; proof that he had grown the said cocoa, and not stolen it. As it turned out, Gordon Etienne had indeed stolen the cocoa, and this court case was to drag on for the entire year and cause major headaches for ND and his daughter Laurina; both of whom were subsequently charged with knowingly buying stolen cocoa. When he wasn't appearing in court in an official capacity, ND loved to watch the proceedings:
Wed 15 Feb: I went to St. George's. Lingham took me to his house for luncheon. I went to the court house and heard the case of a woman called Say-Say. The jury brought a verdict of guilty in her. The Judge Cools La-Digue pronounced the death sentence on her. I came home in Gibbs' bus. The above is called "The Mango Poisoning Case".
"Say-Say" from the town of Sauteurs was a famous murder trial in Grenada in 1950. She killed a Polish doctor with a poisoned mango. The goodly man was one of many Polish doctors who had settled in Grenada after the war; Dr. Bierzynski was another, as was a dentist in St. George's. The court house was a source of free entertainment, not just for ND but the entire country:
Fri 17 Feb: Yesterday I attended Court to hear the proceedings in the matter of the 8 men that murdered one man at La Sagesse, but due to the density of the crowd I could not get entry, hence I heard very little of what passed.
ND used the diary as an accounting book, and would record in painstaking detail all his financial transactions: "I went to St. George's, sold two bags even to V. E. Clarke. 269.265 lbs less 6 lbs at 43c per lb brings $227.04, he paid cash. The 2,518 lbs he has on hand for me we now agree 43c = $1,082.74, to this I owe him $362.00 therefore the net amount he has for me now is $720.74 to be paid to me on the 10th inst." His major concern was the constantly fluctuating price of Cocoa – it never seemed to fluctuate in the right direction:
Wed 22 Feb: I did not go to Ash Wednesday Mass, I was engage in baking. Mr. Tom Otway call here and asked me to sell him some Cocoa. 2,518 lbs I have now drying at VE Clarke's store, he promised to pay 43c but I told him I would not accept that. He said in any case he will give me more if I decide to sell it to him.
Life in Perdmontemps continued in its small-town way: Amy McMillan went to the Colonial Hospital complaining about her eyes, but they told her there's nothing wrong with her eyes, so she went down to Trinidad. She stayed for 31 days and when she came back, her eyes looked a lot better. ND wrote to Mr. Miller, asking them to sell him a spot of land so he could donate it to the Church for the building of Saint Dominic's; but Mr. Miller said the land was not for sale. Plus of course there was the village madman:
Wed 1 Mar: John McMillan declared crazy, he went at Abraham Gabriel and did considerable damages. He is sent to the Lunatic Asylum this PM. Laurina and Rose Pascall accompanied Amy to the Asylum.
One matter that would not go away was the case of Gordon Etienne and the stolen cocoa. ND confronted Etienne how he ND was severely out of pocket and in trouble with the police, because he had trusted Etienne in the sale of the cocoa. He didn't get the satisfaction he sought from Etienne. Eventually, the first court case came up:
Wed 15 Mar: Gordon Etienne Appeal case came off, he was fined $24. He came up here, giving me a lot of lies saying that the police are dissuading him from coming to serve as my witness in the case made against me for buying Cocoa without license. He tries to borrow 20/- from me, he failed.
The subsequent police case, against ND and Laurina, kept getting put off. In the meantime, village life continued:
Mon 10 Apr: Two boys drowned in Westerhall bog, one is called John, a brother of Evrice, another is a son of Dolphon Gulston, the body of Dani is found but the body of John is not found. But the body was not found the same day, it was on the 2nd day it was found.
There was nothing ND loved more than a good speech, either listening or, preferably, giving one:
Tues 2 May: I attended a meeting in St. David's on the subject of the Nutmeg Producers' Protective League, it was well attended. I obtained very strong applause by the people for my brilliant speech.
On Thursday, 4th May, ND wrote: "Laurina went and sleep at her brother Lingham who is sick." Up to then, Lingham had been in fine health, he had recently taken his niece Brenda on week-long assignment to Carriacou. Lingham languished at home until on 16 May, when he was admitted to the Colonial Hospital, in "the Private Block". Without ever saying what was clinically afflicting his eldest son, ND recorded in detail the frighteningly rapid decline in his son's health:
I went to St. George's twice to see Lingham, his state is very doubtful. I am very sorry to see him suffering to such an extent … he is very sick with pains … In the morning he vomited blood twice … The Polish doctor visited Lingham today, he said that Lingham's case is worst now to when he last attended him. He strongly recommended him to Barbados, U.S.A or England because his case is dangerous indeed … Dr. "W" came and visit Lingham, he said that his case is much worst than the last time, he spoke as if he meant that Lingham will not live, but will die.
On Sunday, 25 June, 1950, Lingham left Grenada for Barbados, accompanied by his sister Laurina. He was immediately admitted into Bailey's Hospital, but it was too late:
Sun 2 Jul: I received a Cable stating that Lingham has got worse, but later he died at Bailey's hospital at Barbados. Mr. Mason was with me in all my movements.
It is almost bizarre, the clinical way in which ND records these tumultuous events, which must have caused him unbelievable pain. It took our cousin Brenda, years later, to give some hint of ND's agony on that night: "I remember the night Lingham died; seeing ND holding onto the window frame in the living room, just holding on tight, like his life depended on it. That was the first and last time I ever saw him cry; it was a horrible sound."
Fourteen days later, ND's youngest son Darwin arrived back in Grenada, after ten years abroad. His timing could not have been worse: too late for his brother; too early for his father.
To be continued…
Excerpted from the forthcoming book: "The White Knight Box"
© 2013, S. Brian Samuel
[email protected]
1-473-420-1903
NOW Grenada is not responsible for the opinions, statements or media content presented by contributors. In case of abuse, click here to report.