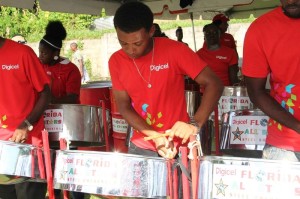 The Loretto Playing Field, in St. John, came alive with the voices and positive energy of Grenada's youth, as the Ministry of Youth, Sports & Ecclesiastic Affairs, with the support of Platinum Sponsor, Digicel, held their first Youth Pulse session last Saturday.
This successful event drew youth from several parishes and the surrounding community. The young people participated in board games, netball, football, games like Tug-of-War and others. A lively discussion forum was held on the topic of HIV/AIDS and Sexual and Reproductive Health, after many participants viewed a film based on that subject matter. A counsellor was on board to lead the discussion and an expert in the area of HIV/AIDS education was also present to enlighten youth on areas where they had many questions and concerns.
Non-Governmental Organisations (NGOs), which included the Grenada Planned Parenthood Association (GPPA), the Caribbean HIV & AIDS Alliance (CHAA) and the Grenada National Organisation of Women (GNOW), came out to show their support for Youth Pulse and provide essential services to youth. The GPPA and CHAA provided factual information and advice to young people about sexual and reproductive health, while GNOW educated youth on issues affecting women, such as domestic violence. All NGOs provided the youth with information on how to access the much needed services, which they provide.
Digicel Grenada Ltd., the platinum sponsor for Youth Pulse brightened the day for many youth by showering them with multiple giveaways and special deals. There was great interest and excitement as the various offers were presented and, following the event, there were many youth who gained access to a smart phone, who were previously unable to access one before. Also present were the Digicel Florida All Stars who gave an excellent performance of popular pieces.
The afternoon session included a engaging ceremony, with Government and Private Sector officials in attendance, including the Minister for Youth, Sports and Ecclesiastic Affairs, Hon. Emmalin Pierre; Minister for ICT & Parliamentary Representative for St. John, the Hon. Alvin Dabreo; Parliamentary Secretary in the Ministry of Youth, Sports and Ecclesiastic Affairs, Senator, the Hon. Sheldon Scott; Permanent Secretary in the Ministry of Youth, Sports and Ecclesiastic Affairs, Mrs. Veda Bruno Victor; Country Manager for Digicel Grenada Ltd. & Marketing Manager, Ms. Patricia Maher and Mr. Kirk Seetahal, respectively.
The ceremony was spiced up by various cultural acts, featuring youth like Nyanka Samuel, Power and Little Vaughn, who entertained the expectant crowd. The "Hooked on Inspiration" segment had many engaging in worship, as the various groups, such as Revelation Band, sang popular Gospel songs that the crowd joined in on. Youth even had a chance to learn a bit of Patois, as part of a special cultural session. Special presentations were made by the Minister to all persons who won various sporting challenges during the course of the event.
Speaking to a crowd of several hundred youth and community members, Hon. Pierre stated her delight at the success of the day's event. She warmly thanked Digicel Grenada Ltd., reminding everyone that without their support and financial contribution, Youth Pulse would not be a reality. Senator Scott emphasised that it took Digicel Grenada Ltd. just about five minutes to accept the Ministry's request for sponsorship of Youth Pulse, in what he called the fastest response time of any sponsor previously approached.
The Ministry of Youth, Sports & Ecclesiastic Affairs is anticipating an even more exciting follow-up to the first Youth Pulse event as they get ready to host the second in the Youth Pulse series. This is the first Youth Pulse to be staged since the closure of the program in the year 2008 by the former administration. It is used as a means to engage youth directly in communities and give them an opportunity to directly engage members of the Ministry and of Government. It is also a forum for cultural expression and education on our Grenadian Culture as well as for various Governmental organs and the NGO Community to provide information to youth in an informal setting.
GIS
NOW Grenada
is not responsible for the opinions, statements or media content presented by contributors. In case of abuse,
click here to report
.