The Ministry of Education and Human Resource Development in collaboration with the Grenada Houston Association (GHA) honoured five students with scholarships at an award ceremony held in the Ministry of Education Conference Room on 12 December 2013.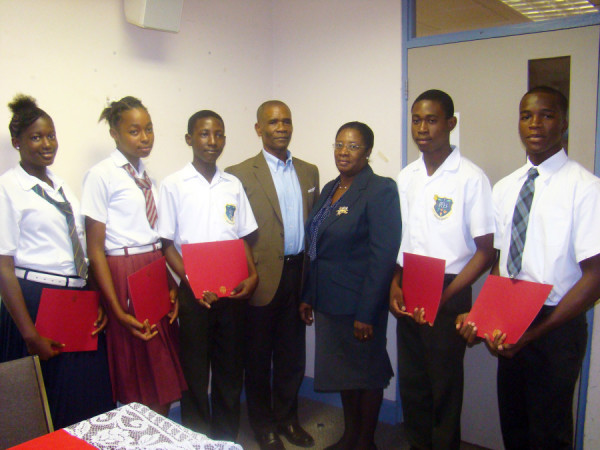 This is the third year that the GHA has reached out to Grenadian students, offering an opportunity for one child from each of Grenada's 6 parishes and one child from Carriacou and Petite Martinique to receive financial assistance for academic expenses.
Dr. J Jonathan Lewis, President of the GHA, was pleased to be able to give back to his home country but encouraged all in attendance to spread knowledge of the Association so that more students can take advantage of the scholarships available.
"Unfortunately, of the 7 scholarships that we had earmarked for Grenada this year we were only able to award 5 because we didn't have representation from two of the parishes; St. Mark and St. John," Dr. Lewis said. "St. John has, however, gotten an award for school supplies for the R.C. School in Gouyave."
Minister for Education and Human Resource Development, Honourable Anthony Boatswain, commended the Grenada Houston Association for their initiative that helps, not only the students, but the government on a whole.
"Whenever I hear about any organisation making contributions I feel extremely pleased because I see it as, indirectly, a contribution being made to the government. If your organisation was not involved in this scholarship programme it means that government had to come forward because there are some services that we cannot deny our students," Minister Boatswain said.
"Our philosophy is that no child should be denied an education on the basis of financial and economic needs, but when you are constrained by the lack of resources you have to ask yourself where do you turn? What options do you have? And therefore we welcome with open arms and with great joy the contribution being made by [the Grenada Houston Association] to help our students by providing these scholarships."
Funds for the scholarship are raised at the Grenada Houston Association's Annual Fund-Raising Gala that will be held in February of next year; coinciding with Grenada's 40th Anniversary as an independent nation.
The five students awarded received cheques in the sum of USD$500.00 each. Organizers hope that this amount will be increased in the coming years.
To date, 21 Grenadian students, in secondary and tertiary level schools, have received financial assistance from the Grenada Houston Association.
GIS
NOW Grenada
is not responsible for the opinions, statements or media content presented by contributors. In case of abuse,
click here to report
.