by Suelin Low Chew Tung
IT'S ABOUT ALL RESPECT. I noticed this two weeks ago while painting in the Haitian sunshine in the company of international cadre of artists who participated in the second Atelier International Art Camp, organised by Haitian lawyer turned artist philanthropist, Patrick Cauvin. The art camp was launched by the Association for the Promoting Haitian Art (Haiti Promart) to support artistic and cultural collaboration among artists from different places. Participants came from Europe, the US, the UK, and the Middle East. Their personal exposure to Haiti's tourism and culture would later be posted on individual artist's blogs, social and traditional media — this was a bonus for Haiti, something which the office of the Mayor of Pétion-Ville and the Directorate of the Ministry of Tourism South East recognised.
Respect. Our Haitian counterparts referred to each other as 'Artist' — 'artist' in salutation and as courtesy title. They respectfully introduced the artist elders among them and proudly acknowledged their achievements and mastery of the various styles of painting — from the various schools of art — which exist in Haiti. I was especially honoured to meet Levoy Exil, master Haitian artist and painter of the Saint Soleil art movement. His works are mystical and highly spiritual with African, Haitian and Vodou influences. I discovered that Exil's works and the works of several other Haitian artists at the camp, command seriously decent US dollar prices. As artists, they told me they are proud to be ambassadors for Haiti.
So for two weeks, I watched a group of men sitting under a yellow flowering tree support each other in creating stunning work after stunning work — in a relaxed, non-competitive atmosphere. I was happy to watch them work and to listen to them converse in kreyòl which every now and again someone would translate for me. At one point I said that I may well have to return to Haiti for a few months to learn to paint like they do. That statement went down very well. How I managed to get my own work done for the final exhibition was a miracle.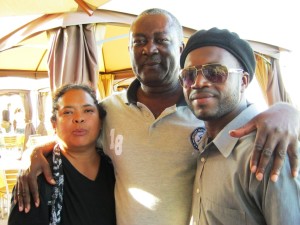 Jean Renel Pierre Louis was my painting partner during the camp. One morning I casually mentioned Henri Christophe, and showed him a skype note from Angus Martin, author of 'A to Z of Grenada Heritage'. Within minutes half the Haitian delegation was at our painting station. They wanted to learn more about Grenada, and this important link between our two countries. Christophe, who was born in 1767 on Sans Souci estate in the parish of Saint Andrew in Grenada, went on to become an icon of Haitian independence as well as the first king of Haiti. Christophe is Haitian legend. The artists were shocked, that in Grenada there was no monument to him, whereas in Haiti there are several, including one in Pétion-Ville, the suburb where the art camp was held. Christophe's palace, Sans Souci, was named in honour of his Grenadian birthplace. It is listed as a UNESCO World Heritage site. At the end of the art camp several of my new friends were the first to exchange artworks with me or gift small works to me outright. Artist Edouard Martial, who was a student of Exil, collaborated on a painting with me — Grenadian Vecco with the Haitian Voudou Bawon Samedi. I appreciated the respect.
I left Haiti with a heavy heart and spent a few days in Miami to unwind and to visit Art Basel in South Beach. I had one artist that I had to see, but first I had to get through a maze of 'cutting edge' works and installations, without succumbing to Stendhal syndrome — literally when a large amount of art in a single place tries to kill me. I'd almost dispaired that I'd have to go outside the massive convention centre to breathe, when I found Frank Walter (1926–2009). Or rather, I found his shack – the shack of 'one of Antigua's unrecognised creative talents' and 'one of the most intriguing and distinctive Caribbean artists of the last 50 years,' according to the accompanying blurb. Frank Walter's shack and his work are what I came to Art Basel to see.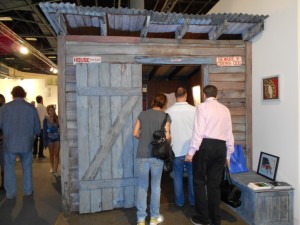 Ingleby Gallery of Edingburgh Scotland 'rescued and reconstructed the hillside shack where Frank Walter lived' and displayed it and his paintings at Art Basel. This exhibition was one of several events this year and is to be followed by a monograph of the artist's work. The gallery has shown a lot of respect for Walter's work. I understand the asking price for the entire ensemble (house and contents) was in the low seven figures US dollars. I must have vented my frustration out loud. Several people appeared startled and a space opened up around me as I reached for my camera, my mind busy substituting Canute Caliste's studio shack for Walter's and my soul grumbling about the apparent lack of respect we have for our similarly distinctive Grenadian artist.
It's about all respect. I concluded that in Grenada we suffer from the 'prophet in our own country' syndrome. We should take a page from Haiti. Despite their oversized share of troubles, they acknowledge the abilities and achievements of their artists and their capacity to promote their country and its culture through their work. Respect.
NOW Grenada
is not responsible for the opinions, statements or media content presented by contributors. In case of abuse,
click here to report
.