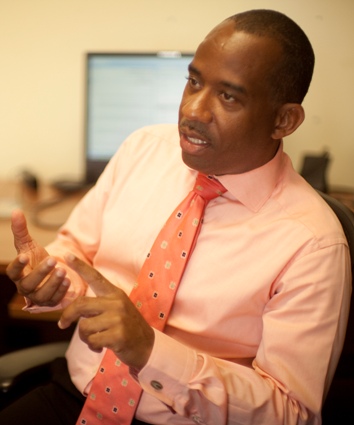 Richard Strachan, Chairman designate for the newly established Grenada Tourism Authority, says that as a change agent he is looking forward to being part of and working with the new Board, CEO, and the innovative team at the Authority to deliver for Grenada's tourism over the next 2 years.
"The Tourism Strategic Plan which was developed for 2011–14 needs wheels to find its way to execution, and this new and dynamic Authority is the perfect vehicle," said Strachan following the announcement by the Minister that he is the first chairman of the GTA.
"Having served the GBT during its consideration of transitioning into an Authority, I am very excited and optimistic about accepting the Minister's invitation to be the first chair of the new Tourism Authority," he added.
Tourism Minister Alexandria Otway–Noel made the announcement of his appointment on Friday during a news conference called to update the media on the present status of the Grenada Tourism Authority which became operational on 2 January 2014. The First CEO of the Authority is Barbadian Rudy Grant.
Strachan, who is very knowledgeable about the tourism industry, served on the Grenada Board of Tourism since September 1997, and was asked to assume the chairmanship in April 2001 to 2004, and then again in 2008 to 2011. He has represented Grenada at international conferences, seminars, symposiums and trade shows in this regard, and was a key negotiator for alliances with international airlines and tour operators.
With an initial budget of EC$25 million for administration, promotion, and marketing, the Authority's role will be to market and promote Grenada as a premium destination in the South Caribbean. Like its predecessor the Grenada Board of Tourism, its target markets for visitors will be the USA, UK, Europe, and the Caribbean.
Without disclosing details about the rebranding initiative, Otway–Noel said that among the priorities of the Authority is a rebranding campaign for Grenada that will focus on its many attractions to visitors, and at the same time focus on the message of improving the product and behaviour change for nationals. 'The authority will be focusing on rebranding and repositioning itself for its new role with regard to Grenada as a destination of choice," she said.
Head of Marketing, Sheldon Keens-Douglas said that the objective of the rebranding is to get all involved, as tourism is extremely important for the economic development of Grenada. "We are going to get to the point where every Grenadian will be living and breathing that new brand," he promised.
by Linda Straker
NOW Grenada
is not responsible for the opinions, statements or media content presented by contributors. In case of abuse,
click here to report
.