"When creative people get together in a space, it just works", said Angus Martin on the eve of Grenada's 40th Anniversary of Independence at the Grenada National Museum.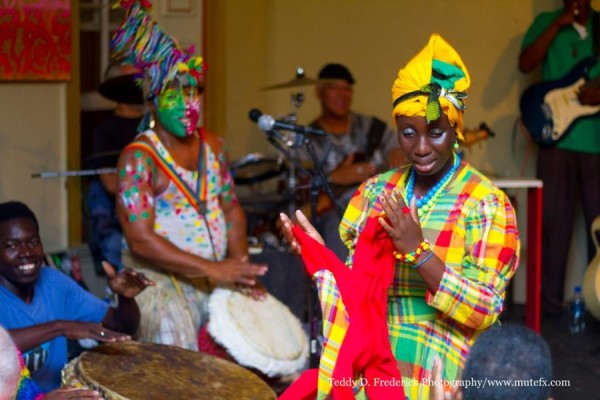 Jazz, drumming, visual art, fashion, poetry, all played their role in a syncretic celebration of life and culture of Grenada. The art of Teddy Frederick, Nico Thomas and several other young people graced the walls. The musicians and drummers of "Our Place," the usual First Friday offering at the Museum provided the rhythm and song. Fashion designers Cleopatrice and her young protégé, Shazella, dazzled with one–of–a-kind couture. The young, socially conscious poets spoke with undeniable passion, and the very appreciative wall-to-wall and spilling into the courtyard audience all joined to create a very special ambiance.
The fashion show was unique and unusual.  The designs all had a lot or a bit of Grenada's colours, in honour of the day. Usually one expects a cat walk at a fashion show, but this was far more than the expected. One of the ladies from the drum group dancing the bélé in full costume led each of the models into the room and escorted them out through the crowd. Strutting, wining, stepping, skirt flying she introduced each of the beautifully attired young ladies. Included in this offering of style was Teddy Frederick's art pieces — dresses made of paper, folded in origami style.
Artist Nico Thomas presented Brenda Hood, Parliamentary Secretary in the Ministry of Culture, with one of his own paintings of the Carenage, which employed his sand technique. She expressed how happy she was to see young people so fully engaged in productive, positive behaviour.
Mr. Martin, director of the museum, has expressed his desire that the Grenada National Museum become a place of community and culture along with history. "Many museums in the world have embraced this format, much to their advantage. When people think of a museum as a lively place, and centre of activity — they want to come." Judging by the pulse of the vibe on this celebratory evening, he has certainly made a good start.
by Susan Mains
NOW Grenada
is not responsible for the opinions, statements or media content presented by contributors. In case of abuse,
click here to report
.