Axcel Finance in Grenada has been hailed as a significant step in Government's thrust to strengthen Micro, Small and Medium-Sized Enterprises — key pillars essential to the overall strategy of poverty reduction.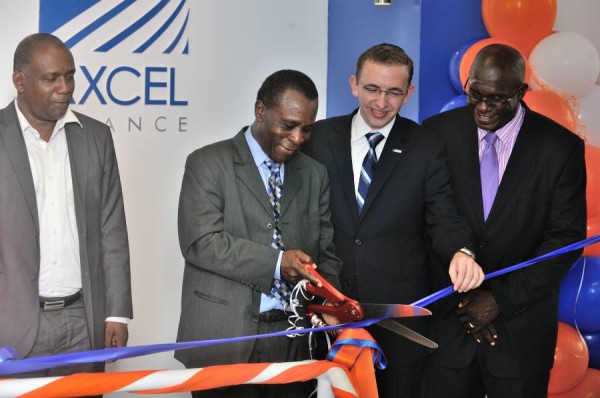 At the official opening in Grenada this week, Prime Minister Dr Keith Mitchell said that supporting the establishment of micro-financing institutions, such as Axcel Finance, is a well thought out, deliberate, strategy of his government.
"For over a century Grenadians have been engaged in successful micro, small and medium-sized businesses. Compared to other countries, this has been the strength of the Grenadian economy — what some have termed our peasantry class. We often accept that our people are not entrepreneurial, but this is not quite true. They are — from the bus-driver to the barbers, to the day care nurseries, to the small garages, small traders, hucksters, vendors, taxi-drivers, to name a few. Many of our people have been excellent entrepreneurs."
The gathering included Hon. Oliver Joseph, Minister of Economic Development, Trade, Planning and Cooperatives, other ministers and senators of government.
The Prime Minister said, "What this has meant is that, for much of the New Economy ventures and entrepreneurial activities, the traditional sources of finance are no longer available or appropriate. It is this critical need to access financing that makes the launch of Axcel Finance's new branch here in Grenada significant."  Dr Mitchell is of the view that the New Economy will be stronger and more resilient to any unexpected financial downturns, if it is based on the citizens of Grenada taking control of their destiny by starting and growing businesses.
Reflecting on the global economic crisis, Dr Mitchell said an important lesson to be drawn is the need to innovate, and to move beyond the traditional perception of income generation being only a day job. He commended Axcel Finance for introducing new innovations and for ultimately assisting in spurring the entrepreneurial spirit of the people of Grenada.
CEO of Axcel Finance, Sam Rosenberg, echoed the sentiments of the Eastern Caribbean Central Bank that the sub-region is "overbanked and underserved." According to Rosenberg "Axcel Finance is helping to unleash tremendous human energy and ingenuity, creating a standard of living, of financial freedom and hope, unequaled in the history of small businesses in Grenada."
Axcel Finance is the leading microfinance institution in the region with operations in Antigua, Barbuda, St Lucia, Dominican Republic, Barbados, and now, Grenada.  The company has established a strong track record, credibility and a healthy client-base with dozens of highly trained, courteous and professional employees serving clients in these markets.
Axcel Finance Grenada is housed in the Demerara Mutual Building on the corner of Melville and Granby Streets in St George's. The official opening in Grenada followed the Axcel Finance launch in Barbados, in December of 2013, and last week's opening of an additional branch in St Lucia's southern city of Vieux Fort. Opening of the Barbados and Grenada operations is part of Axcel Finance's growth strategy in its second year of operations in the OECS.
Source: GIS
NOW Grenada is not responsible for the opinions, statements or media content presented by contributors. In case of abuse, click here to report.