Prime Minister Dr Keith Mitchell has announced that one of the attractions that will soon be offered to visitors to Grenada is a tethered balloon and zipline over St George's.
Without disclosing details about the project, while addressing the officially opening ceremony of Sandals LaSource on Monday, Mitchell told the gathering that local investors are now embarking on creating a series of appealing sites and activities that will attract visitors and help to increase the spending in St George's.
"This will ultimately help to finance the rejuvenation and preservation of the Georgian architectural heritage of the town. Their initiatives include the tethered balloon and zipline over St George's. The viewing platform afforded by the balloon will ensure that guests enjoy the spectacular views with which we are blessed, while at the same time, taking advantage of the snack bar selections in a relaxed and fun atmosphere," he said.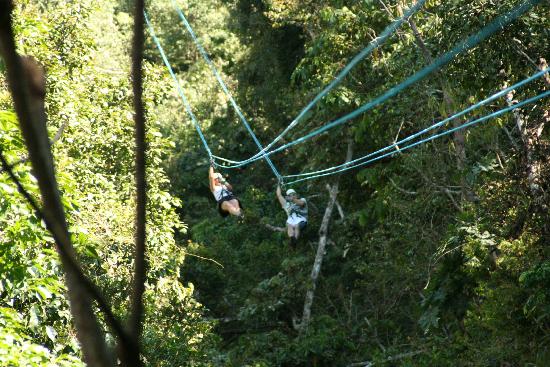 Dr Mitchell, who is also the Minister for Finance, said that his government understands that great marketing has to be backed by great products, and great attraction. "Therefore, we are breaking ground in several areas of added value for the people who come to our shores. St George's has been hailed as one of the most charming towns in the Caribbean, and as such it is a perfect location to implement activities that will help to lure passengers off the cruise ships or hotels, and into the town. It will also provide more incentive for cruise ships to dock on our shores in lieu of other destinations," he said.
Describing Grenada as a fine example of what luxury, peaceful and worry-free living can be, the Prime Minister, who also holds the position of Minister for National Security, said that promoting the safety and low crime rate of the island is a brilliant marketing tool that is already paying dividends for our tourism industry.
"We are now reaching out to formerly non-traditional markets; broadening our scope in regions such as the Middle East and Asia, while at the same time, working to guarantee retention of our existing North American and Western European markets," he said.
By Linda Straker
NOW Grenada
is not responsible for the opinions, statements or media content presented by contributors. In case of abuse,
click here to report
.