Four months after the first batch of guests arrived, Sandals LaSource officially celebrated its opening on Monday 28 April, with tourism and hospitality stakeholders, as well as those who contributed towards the successful realisation for a project that under normal circumstances could have taken more than two years for construction.
The project was officially launched in November 2012, with a promised date to have first guests enjoying the "Sandals experience" by 12 December 2013. A delay due to weather and other operational challenges, resulted in first guests arriving 21 December.
"What happened here is a miracle," said Sandals Chairman, Gordon 'Butch" Stewart, as he recognised the construction crews which, during the peak period, were more than 1800 workers. "This was organised chaos, but they adapted themselves and we are all here today," he said.
Praising the building skills of the construction workers, who which at one time worked around the clock, Stewart told the more than 600 guests at the opening, that the ability of Grenada's construction workers who worked at the Sandals LaSource was "excellent and among the best in the region."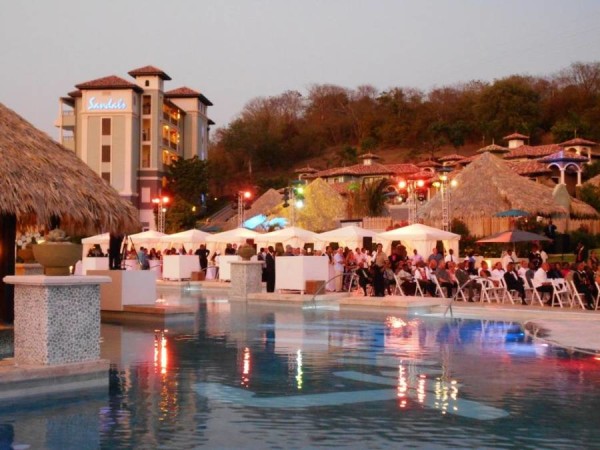 Local, regional and international tourism stakeholders, including approximately 100 travel tour operators and agents, and journalists attended the ceremony.  The highlight was the presentation of a Six Diamond Award from the American Academy of Hospitality Science (AAHS). The AAHS's International Star Diamond Award is the most prestigious award of true excellence in hospitality, gastronomy, attitude, quality, cleanliness, and above all service.
Governor General Dame Cecile La Grenade, Prime Minister Mitchell, Gordon Stewart and others participated in the ribbon cutting ceremony, which was backlight by fireworks. Three violinists and an Earth Harp player provided musical backdrop for the occasion.
"Over the last year and a half or so, we have watched this giant of a business, and this business giant in Butch Stewart, transform our hotel landscape, and by so doing he has helped to reverse our economic outlook," said Prime Minister Dr Keith Mitchell in his address. "We have seen right here at Sandals, the provision of hundreds of jobs for our young people, and not just jobs, but highly skilled jobs; Employment which obliges our people to improve on their level of service and practices, employment which provides a platform for upward mobility in their areas of expertise." Mitchell commended the management of Sandals for their vision in ensuring that the education of their employees is a continuous process.
Dr Mitchell, who is also the Minister for Finance, encouraged all other hoteliers to continue enhancing their services as there is a lot of untapped potential in the hotel sector. "All the successful and ambitious hoteliers islandwide need to come to terms with the view that the pool is large enough for all. Sandals has built on the successes of our existing hoteliers, and presented us with prime opportunities for partnerships. Every additional hotel investment, if managed effectively, can be a win-win for all hoteliers, and for the country," he said.
Tourism Minister Alexandria Otway-Noel said that Sandals brand in Grenada will assist Grenada as it embarks on initiatives to reposition itself under its new brand of 'Pure Grenada'. She noted that Grenada has experienced increased arrival for the first quarter of 2014. "This new brand captures everything we have to offer in our destination. This brand embraces everything we hold dear and Sandals is offering an experience that fits within our brand," she said.
Showing a direct relationship between the Sandals brand and Grenada's rebranding theme of 'Pure Grenada', Sandals CEO Adam Stewart promised Minister Otway that his company will not disappoint. "We will not let you down, Grenada. We will take you to the world," he said.
By Linda Straker
NOW Grenada is not responsible for the opinions, statements or media content presented by contributors. In case of abuse, click here to report.