Diplomatic art gifts have the potential to seal international friendships. There have been several instances where Grenadian art have been used as a diplomatic tool, but this almost never makes the news, nor adequately highlighted as to art's importance as a tool of Grenada's diplomacy. 
The instances include, but are not limited to, the recent Grenada-Qatar bilateral cooperation talks, the Queen's Diamond Jubilee celebrations, Canute Caliste's paintings in the collections of George Bush senior and HM The Queen, John Benjamin's works in the UK's National Art Collection. Two paintings from Freddy Paul – by far the most prolific Grenadian artist at the moment – were presented to HM The Queen by the Governor General of Grenada.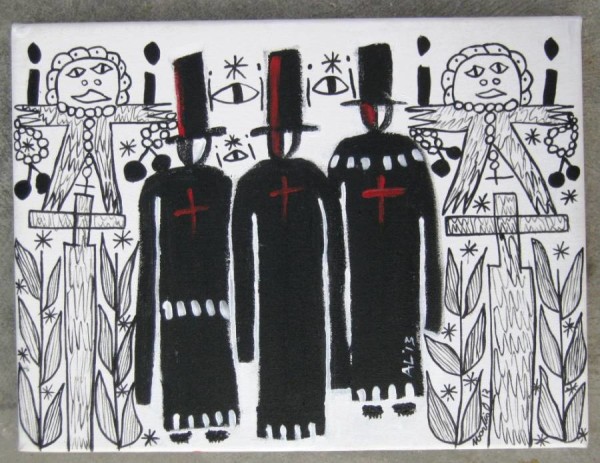 Grenadian painter Suelin Low Chew Tung is scheduled to participate in three international art camps. In July, a 2 week camp in Calimanesti, Romania, followed by 5 days in Slovenia, and then, from 10–25 August, she attends the 19th Inter-Art Foundation International art camp in Aiud, Romania. She is no stranger to creating linkages between visual arts and foreign relations. She recently concluded an artist residency in her studio with a visiting Haitian colleague and five Grenadian artists, and is now preparing to bridge Grenada with Eastern Europe.
Suelin said, "In the absence of our home grown art diplomacy programme, as a citizen artist I have a responsibility to ignite collaboration, and build on Grenadian diplomacy – both in areas where we have diplomatic ties, and in places where Foreign Affairs have yet to reach."
"In a 2013 Vanity Fair article titled 'The Diplomacy of Art', Hillary Clinton wrote that art is a tool of diplomacy. Art 'reaches beyond governments… to help us connect with more people in more places.' The US State Department has, since 1963 championed a global visual arts public-private partnership to share the work of more than 4,000 US and international artists in more than 200 US Embassies and Consulates around the world. This partnership plays a vital role in American public diplomacy. Cross-cultural exchanges often reveal/inspire new ideas and concepts for dealing with old challenges, in art, in business or otherwise. Imagine what a similar programme could do for Grenadian diplomacy."
To take up this opportunity, Suelin has created a crowd funding campaign at GoFundMe to raise USD 2,000 for travel expenses. She leaves Grenada 2 July to return 30 August 2014.
NOW Grenada
is not responsible for the opinions, statements or media content presented by contributors. In case of abuse,
click here to report
.