by Linda Straker
"I undertake this responsibility, Mr Ambassador, with pride and pleasure. I am assured that the many friends I have made along the way here in Grenada will continue to support my efforts, albeit in new ways and arenas," was the promise from the United Mexican States first Honorary Consul to Grenada, Mrs Magdalena Fielden, as she received her Exequatier last Friday night from Foreign Affairs Minister, Nickolas Steele.
"It will be a challenging but exciting tour of duty and I look forward to embarking on this journey under the guidance of the Mexican Embassy in St Lucia, and in collaboration with the Ministry of Foreign Affairs of Grenada and the many, many partners and friends in the public and private sectors," Fielden told the many diplomats and invited guests who attended the special ceremony to welcome her into the diplomatic community.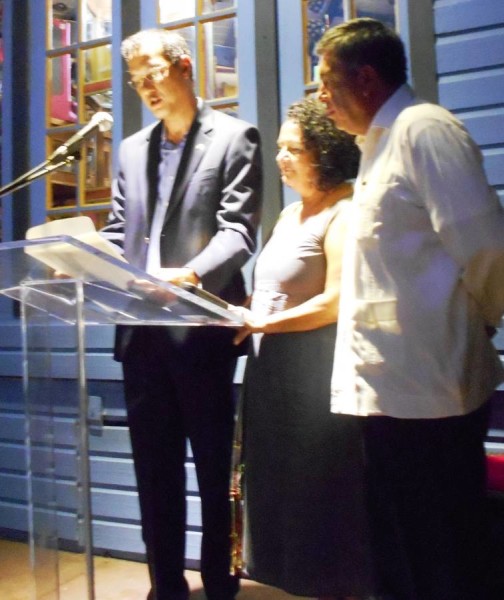 It is her belief that by both countries strengthening technical cooperation, there will be great tangible benefits for both nations. "I wish to assure the governments and citizens of both Grenada and Mexico that I will do all that I can to further the implementation of the commitments undertaken in the recently adopted bilateral agreement signed in Merida, Mexico. I am prepared to do all that is asked of my office, and even to go beyond the call of duty to ensure a mutually beneficial and enduring relationship between our countries," she said.
In his remarks, Mexico Ambassador to the OECS, HE Luis Manuel Lopez Moreno said that with the accreditation of Mrs Fielden and the inauguration of the office, the Government of Mexico demonstrates again, its unequivocal commitment to deepening the relationship since diplomatic ties were established more than 50 years ago.
"I am proud to convey the sincerest regards from President Enrique Pena Nieto and his assurances that having an Honorary Consul in Grenada is more than a mere gesture of our friendship, it is a measure that has already started bearing fruit and brings us one step closer to our journey forward for the good of our people," he said.
Ambassador Moreno said that the Mexican Government jealously guards its friendship with Grenada and has therefore entrusted the care of that relationship to one of its most outstanding citizens. Describing the many initiatives undertaken by Mrs Fielden as cultivating bonds of friendship, professional engagement and exposure to things Grenadian, Moreno said that his country could not have chosen a more passionate and dedicated representative to be the first Honorary Consul.
NOW Grenada
is not responsible for the opinions, statements or media content presented by contributors. In case of abuse,
click here to report
.