By John Crow
Roland F. Benjamin, "Rabbit," as he was popularly known, was a lot of things to a lot of people. To some, Roland is an unsung Grenadian hero who died too young. However, his legacy will leave on because of his passion for children and education, his careful planning, and his generosity.
As part of his estate, Roland left huge sums of money for several schools, in and around Grenville and Sauteurs, Grenada. Roland was a giver, a humanitarian, a talented musician, a TV and radio technician, and a computer software engineer.
For his high school, his Alma Mater, Mac Donald College High School (MDC) at Marli, St Patrick, Roland left US$23,647.71. Even though not planned as part of their 50th anniversary celebration, this is 90% of what they are due, says his estate executor and lawyers. The final amounts will be paid out later this year.
Birchgrove RC Primary School (Birchgrove), St Andrew's Methodist Primary School (Grenville), St Andrew's Anglican Primary School (Grenville); received US$11,823.86 each. In late May 2014, Birchgrove was the first to retrieve their cheque.
What is Roland's connection to Birchgrove, you ask?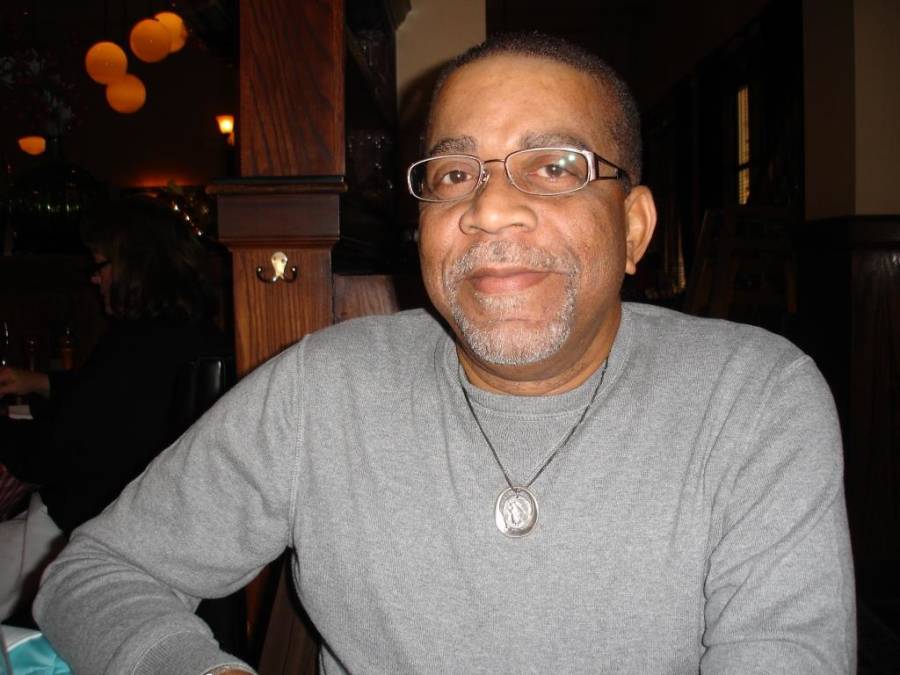 Roland had a few loves, children being one of them. He also loved his family, and was real fond of his world famous artist uncle, John Benjamin. When John died, the Birchgrove RC School reached out to the family. A few students performed one of his uncle's original poems at the going home celebration of Uncle John. The children of Birchgrove made an impression on Roland. He gave the school a thousand dollars on the spot. Before he traveled, Roland, an accomplished guitarist, played several times at the Birchgrove School. Visiting the school many years later, he saw the school needed help. He included them in his final will and testament. The will does not specify the use of the money. However, the estate executor suggested to the schools, the establishment of computer labs in his name/honour. None of the schools have computer labs. The Methodist school indicated that their library could use it more.
Before MDC, and before he was shipped away to the United States, Roland attended the St Andrew's Methodist Primary School. In the United States, Roland attended TCI College in Manhattan, where he expanded his geeky side and became a computer whiz. TCI received US$17,735.79 from Roland's estate. Expanded, because, as a child he was building transistor radios and communication devices, while most of his friends did not even own a radio. His father, Reynold C Benjamin, former agriculture specialist, was a ham radio operator. Diodes, transistors and radio signals were familiar to Roland.
The Anglican School in Grenville was his back yard. As a boy Roland grew up and played in the Anglican schoolyard. He hated the temporary structures that are used today as classrooms for the children. These temporary, modified shanties are due to the compromised of the School and Anglican Church buildings. The damage occurred when the new fish market was erected behind the school, on the beach. Roland hated the new structure. He hated the shanties. He hated how the authorities callously destroyed two historic landmark buildings in his town, in his yard.
Often times Roland would moan about how 'the new market building cut off the ocean breeze that flowed through the school building, before the NNP government gave the green light to build the fish market.' This was a cause his famous mother and former political figure, Nadia (Rush) Benjamin fought against, for years, with her organisation, SADO, with no good results. Roland felt his monetary contribution would go a long way with the rebuilding and repair of the school. Also, he hoped that his contribution would inspire others to do the same.
Sandwiched between his older brother Gentle and younger sister Carol, their "society" parents, exposed them to a lot at a young age. Giving back was part of his upbringing. He was a quiet kid, an introvert, sort of. He will be remembered for his quite approach of doing things. He was first noticed around Grenville, his home- town, when he inherited is brother's motorcycle and started his crazy rides in and around town. Rabbit then joined the now defunct, but once famous Alafia Folk Singers, as one of their guitarist From Alafia he joined the power house of a band named, Generation Revival, that came out of Birchgrove as "Tropicals." When the late virtuoso, Don Charles, took full control of a dying Generation Revival the name was changed to MOSS; that later became MOSS International. Roland left Grenville just about the birthing of MOSS.
While most of you may not know or have never met Roland in person, quite a few of you are familiar with his work. He was the co-creator, technical director and the engine behind the legendary television program and archive, GBTV Culture Share, starring Harold Pysadee, producer Gentle Benjamin (Roland's brother). Roland died in June 2013 after a long battle and short illness with multiple myeloma. He was 59.
John Crow is a journalist based in New York, who is the producer and host of the award winning television programme Caribbean Classroom. This article was based on previous conversations and personal accounts with the deceased and his trusted friend and woman, Louise Evans-Henry.
NOW Grenada is not responsible for the opinions, statements or media content presented by contributors. In case of abuse, click here to report.