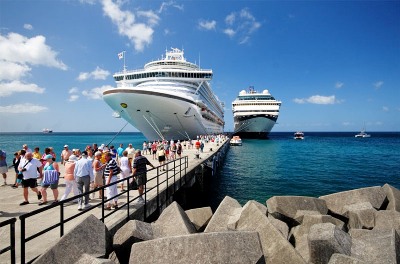 Fisheries Minister Roland Bhola has disclosed that Grenada will be undertaking a number of initiatives aimed at protecting its "Blue Space", and growing the island's "Blue Economy."
He explained that his ministry recently established the National Ocean Governance Committee, which includes officials from the ministries of Agriculture, Foreign Affairs, Legal Affairs, Finance, and Tourism, the Royal Grenada Police Force (RGPF), the Grenada Ports Authority (GPA), the Grenada Solid Waste Management Authority (GSWMA), and the National Disaster Management Agency (NADMA).
Following Grenada's recent participation in the Global Ocean Action Summit in the Netherlands, which he and Prime Minister Mitchell attended, Minister Bhola explained that government is much more serious about developing the Blue Economy. The focus of the summit was "Protecting our Blue Environment and growing our Blue Economy."
In his address at the official opening of Sandals LaSource, last Monday evening, Dr Mitchell said one of the outcomes of the summit, was for Grenada to host a Blue Growth and Oceans Governance Institute. "I have just returned from the Global Ocean Action Summit. We discussed and finalised major cooperation agreements between the Netherlands and Grenada, with possible partnership from other countries such as the USA and Indonesia. We are well on our way to optimising Grenada's coastal, marine and ocean resources with the aim of establishing dedicated "Blue Growth and Oceans Governance Institute" which will be hosted in Grenada."
"We recognise that we have to broaden our scope past the limited reliance on our Green Economy, because the blue mass, and by that, I mean our ocean space, far surpasses the green space or land mass. The Blue Economy then is poised for rapid growth," he said.
The Prime Minister said that cooperation with countries like the Netherlands can lend technical and financial expertise, which will enable Grenada to move speedily in enhancing and responsibly exploiting its unique potential in the yachting and cruise ship tourism sectors.
"We can now move to further develop and market our many Marine Protected Areas, our underwater sculpture park and fishing zones. Our country can boast of, and is also recognised for, the distinctive genetic biodiversity of the hemisphere's largest submarine volcano. We are even exploring the possibility of seabed minerals such as rare earth metals, and potential oil and gas deposits," he said.
By Linda Straker
NOW Grenada is not responsible for the opinions, statements or media content presented by contributors. In case of abuse, click here to report.