An intimate turn out for his final art residency exhibition last Monday night at the Alliance Française did not thwart artist Prensnelo's enthusiasm for his work and for his stay in Grenada.
Thirty-seven colourful and stunning acrylic and mixed media pieces are on display, the result of 5 months of consistent work, in between welcome distractions discovering Grenada, and becoming part of the local scene. Comparing his work done at the beginning of his residency to works completed at the end, you get a sense that his surrealist abstract approach to painting has undergone a softening round the edges. They are still imbued with all that is Haiti, specifically the essence of his home village of Brigue, but the softening is there, perhaps due to the relaxing Grenada environment.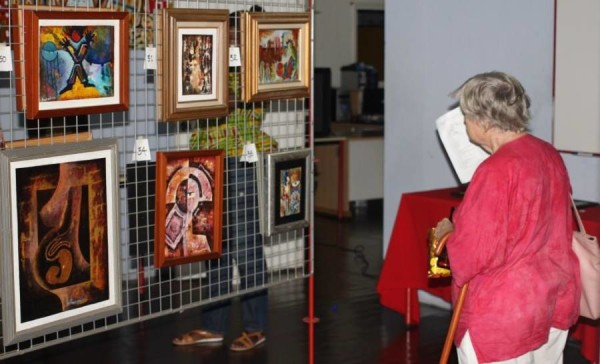 At the end of opening night, Prensnelo presented Director Magali Bongrand–Henry, with her portrait, in thanks for her support and the support of the of Alliance Française de la Grenade, French Language and Cultural Centre of his work. The show is up for one week until this Friday 27 June at the Alliance Française in the Villa, St George.
There are 2 movie nights on during the Haitian Art Week. Yesterday, Wednesday the movie was about Jean-Claude 'Tiga' Garoute, a Haitian abstract painter and sculptor, who co-founded the Saint-Soleil post-naïve school of Haitian painting. This Friday night, the movie La Sculture, is about the metal artisans of Croix de Bouquets.
NOW Grenada is not responsible for the opinions, statements or media content presented by contributors. In case of abuse, click here to report.