Pirates in the music business have been told to become legitimate entrepreneurs. Calypso and Soca Director of the Spicemas Corporation (SMC), Isha Antoine-Andrews, wants pirates of the music industry to change their business status and become legitimate businessmen in compliance with the laws and standards practice within the industry.
"Stop pirating, buy and sell original music from the artistes." Antoine-Andrews' remarks were made at last Saturday's official launch of the 2014 Spicemas celebrations. In line with its tradition of focusing on an area of the carnival celebrations to be the spotlight, the SMC has agreed to focus on the contribution of Calypso and Soca. As a result the theme for Grenada's 2014 carnival celebration is: "Uniquely rooted in our rich ancestral traditions – Spicemas 2014, an Explosion of Calypso and Soca."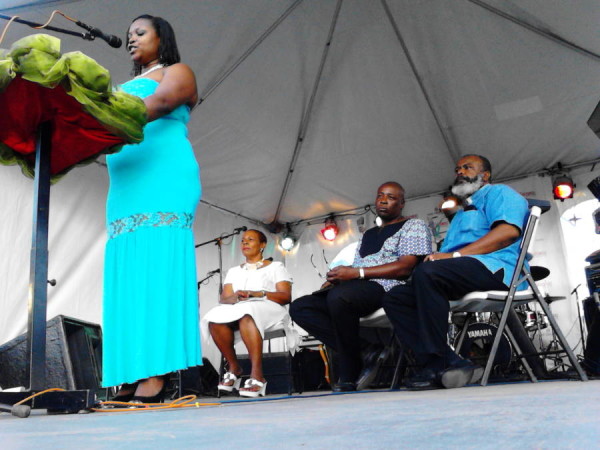 Antoine-Andrews represents Grenada's membership on the board of directors of Eastern Caribbean Collective Organisation for Music Rights (ECCO). She called on artistes to have their work listed with of ECCO. "To all artistes, protect your work by copyrighting it, the easiest means of proof of ownership," she said. She told the audience at the opening ceremony, that 2014 is a significant year for calypso and soca artistes in Grenada, but one again there is only one organisation advocating, lobbying and negotiating for the membership. "History was made this year when we the artistes, finally decided to put our differences behind us and come together as one, after 13 years of separation and infighting amongst ourselves," she said. "As we move forward, we look to the future with great optimism, a vision to succeed and maximise the opportunities and benefits that we have ahead of us."
In paying respects to all who laid the foundation for the development of the artform, Antoine-Andrews said, "We can no longer sit back and relax, but we must follow in the footsteps of persons like Ajamu, Tallpree, Baby Killer and all the others who have made inroads in the international market of entertainment."
By Linda Straker
NOW Grenada is not responsible for the opinions, statements or media content presented by contributors. In case of abuse, click here to report.