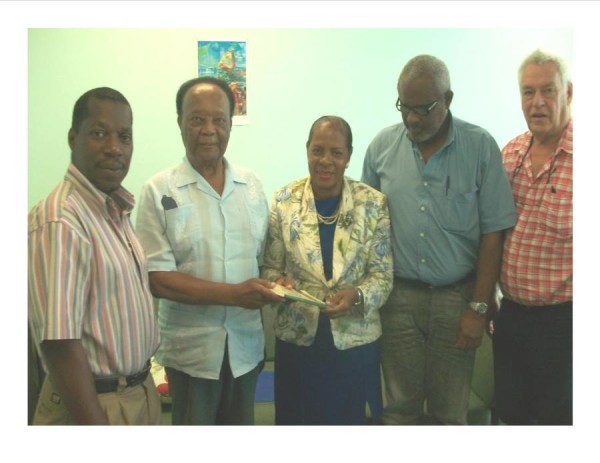 On Tuesday 17 June, Minister for Culture, Hon Senator Brenda Hood greeted the executive of the Willie Redhead Foundation (tWRF), headed by President Tim Byam, at her office in the ministerial complex office.
Immediate Past President, Norris Mitchell, led the charge on the agenda prepared by the executive, in order to maximise the time allotted to the meeting. The decisions reached follow:
The Ministry of Culture (MOC) would provide tWRF with a copy of the National Cultural Policy document for study, in order to make recommendations for changes, if necessary.
A list of Heritage Buildings and Sites prepared by the MOC and submitted to Cabinet would be given to tWRF to compare with the list prepared by tWRF in 1999. It was agreed that a comprehensive list for Grenada, Carriacou and Petite Martinique must be completed before seeking legislative approval and implementation.
The Government of Grenada is in dialogue with UNESCO in seeking Heritage Listing for the town of St George. A Heritage Committee is to be formed to move the process forward, on which tWRF would have representation.
Minister Hood would speak to the Parliamentary Representative for the Town of St George, Hon Nickolas Steele, who in turn would liaise with the Minister of Works, in order to have York House inspected by a team of engineers from tWRF and the Ministry of Works. The recommendations submitted by the engineers would be the first step in cleaning and preparing the building and the site for restoration.
The minister promised to let tWRF have a copy of the disc with the 2007 Cubans drawings of York House.
tWRF has agreed to part fund the project, but must have government commitment by way of a Memorandum of Understanding (MOU), so that local and diaspora contributions could begin to be deposited in a local trust fund.
The minister assured the meeting that her government is seeking grant funding from a friendly country to meet the expenses of repairing the Public Library building which has been unoccupied for over two years now.
The foundation informed the minister that within a few weeks a photographic record of all derelict buildings in the Town of St. George would be undertaken in order to begin the process of upgrading our capital city and to advance the initiative of UNESCO Heritage Listing.
The executive presented a copy of the "Dynamics of Urban St George" and thanked Minister Hood for meeting with the foundation in her new capacity, and for her constructive engagement. The tWRF looks forward to continuing this relationship/ partnership in an effort to protect and enhance our natural and cultural heritage, and in the interest of national identity and nation building.
NOW Grenada is not responsible for the opinions, statements or media content presented by contributors. In case of abuse, click here to report.