3,979 passengers and crew members of the MSC Divina injected approximately $416,000 into Grenada's economy on Friday, 25 July 2014. The 2012 luxury Italian cruise line berthed in Grenada for the second time since its inaugural visit on 28 May 2014. It returned to Grenada from Rio de Janiero, Brazil following the FIFA World Cup Finals.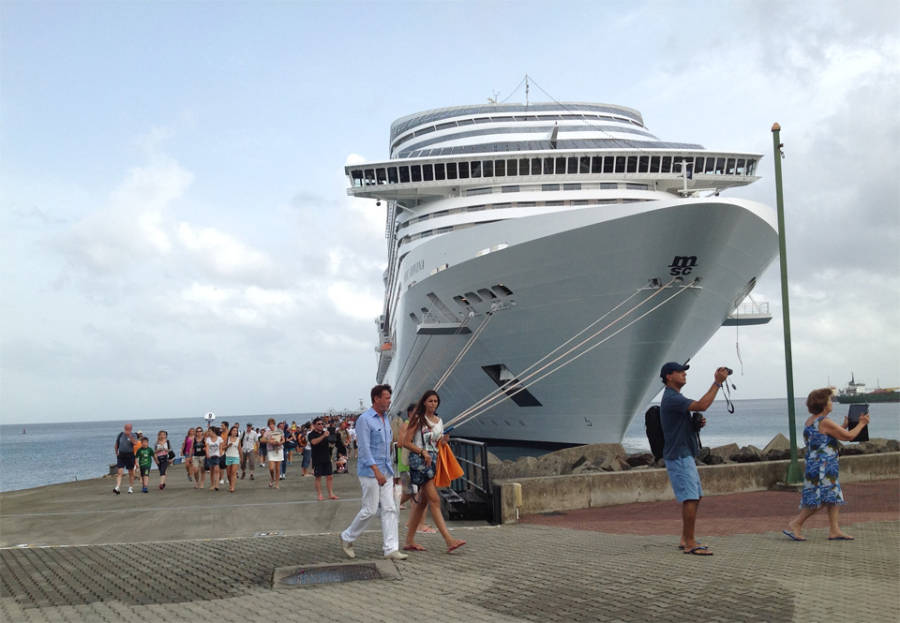 "We are on the verge of reducing seasonality, with only two months of 2014 without cruise ship calls" says the Grenada Tourism Authority's Manager of Nautical Development, Mrs. Nikoyan Roberts. The MSC Divina closed the spring cruise ship season, becoming the 99th cruise call. For the period January to June 2014 Grenada has seen 149,073 cruisers, a 12% increase from 133,163 for the same period in 2013.
From 8am to 6pm the MSC Divina cruisers, who were predominantly from South America and North America, ventured through the streets of St. George's sampling fresh fruits, discovering the historic buildings, and purchasing spices and souvenirs. Taxi drivers who were stationed at the Esplanade Mall explained that the cruise visitors were keen on exploring the island, so much so that public transportation was also utilised for island tours.
Cruise calls give the GTA an excellent opportunity to entice short stay visitors to return for longer stays. The GTA partnered with the Spicemas Corporation, the Grenada Cultural Foundation, Grenada Chocolate, Westerhall Rums, and de La Grenade Industries, to ensure that visitors were given a high dosage of Grenadian flavour and rhythm while at the Esplanade Mall. The cruise visitors were serenaded with the melodic sounds of Pan Ossia and the intriguing movements of the Wild Indians, Moko Jumbies, and Vieux Corps, and were given samples of the local rums and chocolates.
The winter cruise ship season commences with the inaugural visit of the Disney Magic on 24 September 2014, a trip that will not only impact the economy but will also bring a spirit of philanthropy.
GTA
NOW Grenada is not responsible for the opinions, statements or media content presented by contributors. In case of abuse, click here to report.