Grenada is the location for the pilot programme of Marti Expeditions (ME), a Caribbean company which sets out to provide safe environments for students to learn more about themselves and about the communities in which they will stay.
Marti Expeditions organises travel adventures for regional students aged 15–18 years, to various Caribbean and Latin American countries where they can explore and learn about new cultures, and serve the local community through volunteering with our partner organisations. Their programme provides 17 days 'to a new perspective, to know nature, to learn a new skill and to stretch yourself.'
So on Saturday afternoon, while the Traditional Mas Festival was in progress in Victoria, St Mark, the Victoria School for Special Education received an artistic sprucing, courtesy 16 volunteers (from 4 countries) with ME, plus students from the Father Mallagan Home for Boys. The school, located in Bonair, caters to children with special needs in the parishes of St Patrick, St Mark and St John.
"Fr Mallaghan's Home were really supportive and happy to have us. We worked closely with the boys from the home who had varying levels of development and needs which made it challenging but really fulfilling. We hope to work with them again next year," said James Walker, one of the founders of ME.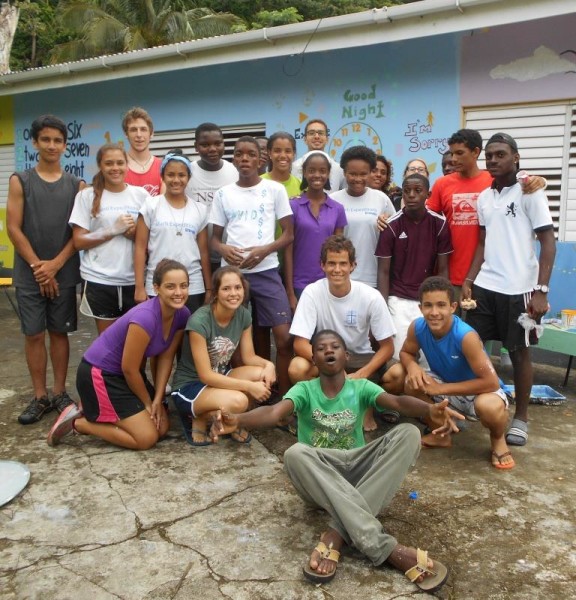 James was born in Trinidad, and his uncle Johnny, was born in Belmont, Grenada. James holds a Masters in International and Development Economics from Yale University and currently works in London as a business developer in alternative fuels. He has led student expeditions for National Geographic to Iceland and Costa Rica as well as community service trips to the Dominican Republic and Indonesia for its sister organisation Putney Student Travel since 2008.
Johnny is an ex-GBSS student. He has held roles as varied as agronomist, missionary, development worker and holds a Masters in Tropical Agriculture from Reading University. He currently mentors teams involved in long-term projects in Europe, the Middle East and Africa.
Why Grenada? James said, "Grenada for the pilot because of our roots here and it's a small, friendly island!"
For more information, see their blog with entries of community work the group is doing in Grenada over 2 weeks, partnering with NGOs like Ocean Spirit (turtles), the Fr Callaghan Home, the Queen Elizabeth Home, and Morne Longue Pentecostal Church and community.
NG
NOW Grenada is not responsible for the opinions, statements or media content presented by contributors. In case of abuse, click here to report.