For most people, carnival celebrations come on the heels of a lengthy period of abstinence and penance. This grand spectacle usually occurs anytime during the months of February to April, depending on that year's Easter calendar.
Haitian artist Jean Renel Pierre Louis (Prensnelo) spent his first carnival in Grenada and shared his impressions with NOW Grenada.
NG: What was your impression of your first carnival here?
"It was so beautiful. I see that we are really fans of Carnival here in Grenada. Haiti carnival starts at 4 or 5 in the afternoon, but in Grenada it starts at 5 or 6 in the morning. When I heard that Carnival will start at 5 or 6 in the morning, I said wow! That's amazing. Five in the morning! I love this, it's so cool. I saw a lot of babies come to enjoy as well. Yes I had fun in the Carnival."
NG: Haiti's carnival is 3 days in February, and Grenada's carnival is 2 days in August. What else have you noticed?
"In Haiti carnival starts after the Navidad, about two weeks after Christmas. We have activities everywhere and every week until the actual Carnival days. We have more than 1 million people from overseas who come to enjoy our annual Carnival."
NG: You took photos. What did you think of the costumes?
What is different in my country is that we start at 4 or 5 in the afternoon through the night until 7 or 8 the next morning. There is also the Starsparade, where all artistes (singers, performers, all the creative arts) and ladies in beautiful costume dresses come together one week before the start of Carnival. The costumes here, in my opinion, take too much from Brazil costumes. They need to look more Grenadian. For me, we need more designers and more artists to create stuff that is more Grenada, to look like Caribbean, to see that this is carnival in the Caribbean."
NG: Does Haiti have Jab Jab?
"Jab Jab, I had to be part of that. I got to jump with Grenada Jab Jab. This is similar to what we have in Haiti, but we call them Chaloska. The difference is the fish in the mouth. The Chaloska have big teeth, not fish, but also red in the mouth. And I saw the snakes too. In Haiti we have big, big, big snakes, and we too use them in carnival. And the old mas is also the same, a time to make your voice heard."
NG: Last words?
"Overall, I was very, very happy to experience Grenada carnival for the first time. Thanks a lot NOW Grenada."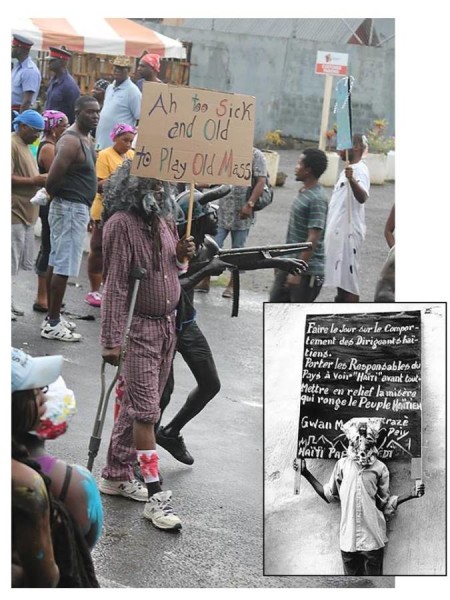 NOW Grenada is not responsible for the opinions, statements or media content presented by contributors. In case of abuse, click here to report.