Belmont Estate received this year's Community Benefit Award in recognition of being a Unique Agro-Heritage Attraction, at the State of the Industry Conference from the Caribbean Tourism Organization and TravelMole, held on Thursday 18 September, in the US Virgin Islands.
This award is presented to a "tourism enterprise or community that has direct social and economic benefits to local people, positively contributes to maintaining heritage and authenticity, encourages strategic partnerships and opportunities for local community input and educates locals and visitors on sustainable tourism  efforts" according to the CTO. The main objective of the CTO/TravelMole Sustainable Award is to highlight sustainable good practices while recognising initiatives that both embraces and enhances the Caribbean's tourism environment and product.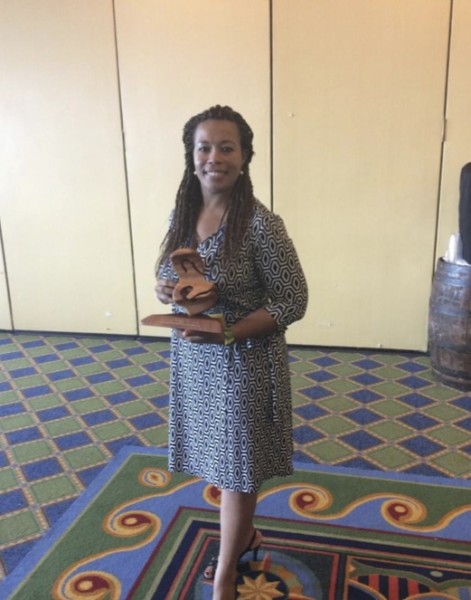 Paula Lewis, Marketing, Promotions and Customer Services Manager, received the award on behalf of Belmont Estate. In an interview with CTO she expressed how very pleased she was that Belmont Estate was recognised for its sustainable efforts and practices in tourism and agriculture, and especially for its community work. She also expressed gratitude to their employees and partners, without whom this award would not have been possible. Lewis sees the award as motivation for the company to continue its work of ensuring that its development is done in a sustainable manner that would bring benefits to also its employees, partners, guests, and communities.
Managing Director of Belmont Estate, Shadel Nyack Compton, described receiving the award as humbling, and yet she is ecstatic that Grenada was represented in the CTO winners for 2014. She heartily congratulated all awardees and special mentions of this year's awards and emphasised continued commitment to working with Belmont Estate's strategic partners; to improving the lives of the people of the various communities; providing better opportunities for the Estate's employees and to continue creating outstanding experiences, products and services for all visitors and guests.
She added that the award is also a win for Grenada, as the island has made significant strides in repositioning the island's brand identity as "Pure Grenada," enabling more dynamic marketing opportunities while staying in touch with today's tourism and hospitality environment.
Nyack Compton wants to encourage Grenada's tourism businesses to remain committed as the driving force of the island's tourism destination, striving for excellence and continued innovation.
Belmont Estate was one of 6 awardees, representing diverse Caribbean initiatives. They included St Kitts & Nevis's Tourism Ministry for Destination Stewardship; Belize's Hamanasi Adventure and Dive Resort for Sustainable Accommodation; the Jost Van Dyke Preservation Society for Heritage Preservation; the British Virgin Islands' Guana Island Hotel for Biodiversity Conservation, and the Puerto Rico Tourism Company for Caribbean Excellence in Sustainable Tourism.
NOW Grenada
is not responsible for the opinions, statements or media content presented by contributors. In case of abuse,
click here to report
.