By Suelin Low Chew Tung
The success of my art show 'I Dream of Grenada' held in July at the National Museum, and the combined efforts of family, friends and supporters, ensured that I departed Grenada on 29 July, to attend two art camps: the first in Slovenia and the second in Romania, two places I had not yet visited.
My route to my first art stop Slovenia was via Spain, then a 5-hour bus drive through Italy. To get to Romania, it was a 13-hour car drive from Slovenia, via Hungary.
It was in Spain, that the momentum for creation started to build. The Sofia is Spain's national museum of 20th Century art. It used to be a hospital. My must see was the Sofia's most famous work, Guernica, Picasso's depiction of his feelings about the German bombing of the town of Guernica. To see Guernica in the flesh, I saw the full detail of the woman running towards a dead soldier. It was that running woman which reminded me of the loping forward motion of the Grenada ShortKnee in performance–with arms parallel to the ground, and one leg mid–genuflection. That plus the African Mask influence–similar to the painted metal mesh masks of the ShortKnee, which inspired me to translate Picasso's work in 2010, substituting the ShortKnee and the Vecco for the figures. That particular work is presently is in a collectors' flat in London.
Walking the streets of Madrid, I discovered art lurks everywhere–in the doorways, alleys, crawling down buildings, on the pavement. I saw the haunting memorial to the 1977 Massacre of Atocha–when 5 lawyers were killed, and shook my head at the lack of public art, monuments and memorials at home.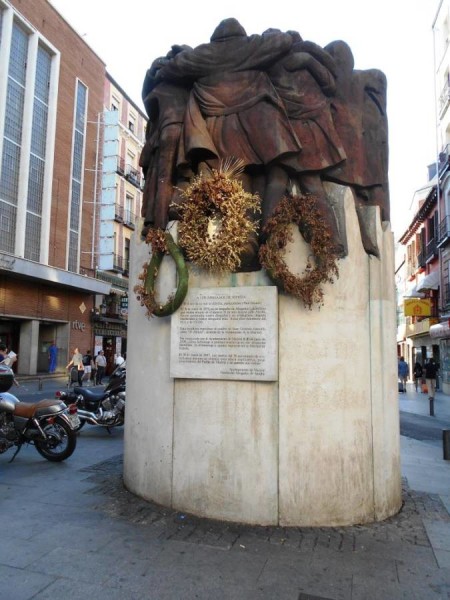 I met up with my hosts Lojze Kalinsek (Slovenia) and Gayatri Horvat (Croatia). I had met Lojze at art camp in Andorra in 2008. At art camp in Haiti last year, I met Gaya. The first art camp we three were heading for was at Velika Planina (big pasture), some 4500 feet in the clouds. Over 4 days, I learned new methods of working on canvas by watching a group of 20 master painters work. I was grateful for this educational opportunity. Days of really cold, fresh air, 360° vistas of mountains, daily walks in 15°C weather across fields dotted with cows and cow pats, cleared the debris from my mind and recharged my creative batteries.
One of our walks took us to the highest point, Mount Gradišče–at 5466 feet. At the summit I placed my small Grenada flag in a south-southwest direction on the table with directional markings, and claimed Gradišče for Grenada! I was sorry to leave Slovenia, but the second art camp in Aiud, Romania where 26 countries, were represented by 38 artists, beckoned.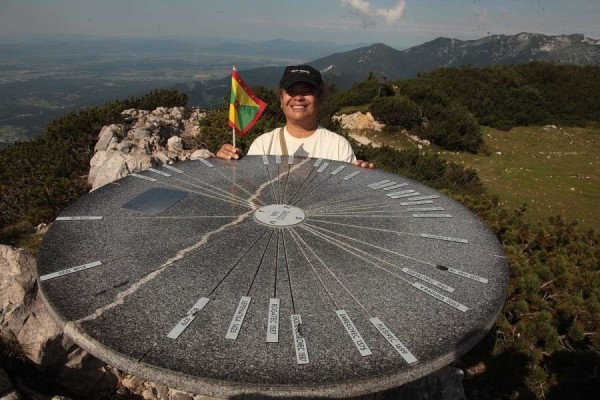 On the way to Aiud, Romania we passed endless fields of corn and sunflowers, tracts of grassland, small forests and fields dotted with rolls of hay. I felt like I was driving through Van Gogh's journals, and I appreciated the beauty that inspired his haystack and sunflower series. When we arrived in Aiud, Stefan and Zoltan Balog the organisers of the Inter-Art art camp, presented us with the exhaustive programme of events for the next 2 weeks http://www.inter-art.ro/tabara2014/http://www.inter-art.ro/tabara2014/.
For the official opening at the office of the Mayor, it truly was great to see the stars and nutmeg next to flags from 27 countries. It was also gratifying to see two artworks from Grenada–mine, and one from Jean Renel Pierre Louis, the Haitian artist who has been on cultural exchange with me in Grenada–prominent in the international mail art exhibition, which was on display. Almost every day we worked flat out to a gruelling schedule. The mandatory meal breaks offered opportunity to relax, revive, and to breathe.
Part of the camp programme included a presentation of art from the artists of Grenada. My 15 minute presentation went down really well. I opened with an invitation to drink my personal recipe of rum punch, to wash down samples of Grenada Chocolate (saltylicious). I showed the location of Grenada, and the distance to Aiud, with images of St George's and other scenic-historic views. Grenadian art started with images of our Amerindian petroglyphs, followed by works from about 20 artists. I closed with images from our largest 'arts' festival, carnival. The audience got a crash course in pretty mas and traditional mas as well. It was going really well, until I got to the last image: three Jabs holding what appeared to be a freshly skinned cow's head. The reactions were priceless.
Suddenly, our tiny island that the majority of the 37 artists there had never heard about, was a place where art is being created, a place where several were interested in seeing for themselves, of attending an art camp here. Just what I wanted to hear.
On Tuesday 19 August, artworks portraying the Grenada Jab were shown to an international audience at the Centrul Cultural Liviu Rebreanu in Aiud, Romania. The artworks were part of 'Emergence' my solo exhibition. Ioan Hădărig, Art Director at Inter-Art Aiud, and manager at the Centrul Cultural Liviu Rebreanu, spoke about the use of art to introduce one culture to another. Of the overall exhibition, he quoted Pablo Picasso: "There are painters who transform the sun to a yellow spot, but there are others who, with the help of their art and their intelligence, transform a yellow spot into sun."
My show, titled Emergence, comprised two parts. Part One: 20 framed untitled small paintings I brought from Grenada, several of which were from my 2013 show of the same name, held at the gallery of the Caribbean Art project in Springs-Belmont. These were based on an excerpt from Teach a Daughter to Fish, a short story taken from my 2013 short story collection titled 'a patch of bare earth'.
Since 2007, I have been exploring the Grenada ShortKnee, but earlier this year, I began work on the Jab Jab, creating a series of paintings on brown paper with a mixture of liquid molasses and acrylic varnish. In Aiud, I got into this Jab mood, and a new series emerged–black paint line drawings on paper, cardboard and glass, and drawings on fragments of white Transylvanian marble taken from my sculptor colleagues at the atelier–to become Part Two of my show.
Some of the drawings showed Jabs in conversation with Romanian sunflowers, heads bent in obeisance to the Jab, who blocks out the sun. These conversations reference fields of sunflowers common to Aiud, plus that particular line about the Jabs with, 'skin so black they blot out the sun.' This part of the exhibition was accompanied by a YouTube playlist of Jab music videos, to add dimension to the presentation. While my framed works were well received, I believe the audience was perhaps more intrigued by the Jab phenomenon. The installation of music video, line drawings on paper and on the marble fragments, stirred artistic and I-want-to-come-to-Grenada-for-carnival…and to paint, interest. Who knew that Jabs could bridge cultures?
On the last Saturday, the selection committee chose three images from me–one for the final exhibition, and the other two for the art camp sponsors. My Jab Rising was chosen for the final exhibition the next afternoon. The selection process complete, artists began to trade works. This tradition is a great way for artists to show respect for each others' work and to stay in touch. Several of my Jab pieces are in private artist collections in at least 10 countries. Good news, Grenada exports art.
The final exhibition was an excellent way to bring to an end 2 weeks of companionship and production. I so want to do this next year, when the Inter-Art Foundation celebrates 20 years of promoting the creative arts in Aiud, Romania and the world.
Suelin Low Chew Tung is a mixed media artist living and working in Grenada. In August, she participated in two international art camps in Europe, and writes this article for Now Grenada about her travels. Her complete travel blog is at artstung.com
NOW Grenada is not responsible for the opinions, statements or media content presented by contributors. In case of abuse, click here to report.