In Samoa, a Grenadian delegate tells the SIDS conference, "Time for join up thinking!"
Well known Caribbean Rights advocate Anande Trotman-Joseph believes that Small Island Developing States (SIDS), should see the importance of domesticating international laws and strengthen legal framework to make them more responsive to women's equality, opportunities and empowerment.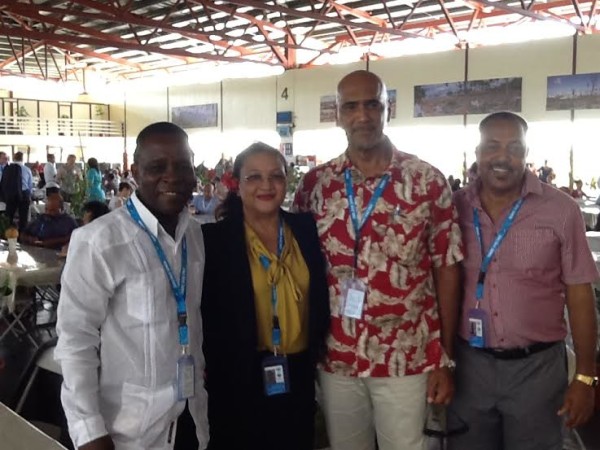 Addressing one of the official 120 side events at the Third International Conference on Small Island Developing States on Tuesday, Trotman-Joseph – who is a lawyer by profession and is the Caribbean Representative for UN Women Entity for Gender Equality and the Empowerment of Women – said that all issues must be consolidated for the future.
"SIDS requires integrated and inclusive approaches as we enter upon a new paradigm for development, built upon the foundations of international human rights, legal frameworks achieved. We must consolidate for the future. Therefore, it is important that we domesticate these international laws, and strengthen domestic legal frameworks responsive to women's equality, opportunities and empowerment," she said.
Trotman-Joseph is among the advocates for decisions that would address justice, equality and equity, good governance, democracy and the rule of law, and give identification to the fact that gender equality and women's and girls's empowerment are essential prerequisites for equitable and inclusive sustainable development.
She told the conference that it is important for small islands to accept that there is a need for new partnerships framed around the principles and building blocks of the SIDS and sustainable goals, of the Post 2015 Development Processes to doing business as national and regional teams as we feed into the global process.
"SIDS partnerships about which we speak already has a wealth of best practice experiences: negotiating strength of the private and multilateral sectors, the resilience principles of agricultural and disaster sectors," she said.
Elaborating further, the former Chairperson for the Grenada National Coalition on the Rights of the Child said, "It's time for 'Joined up thinking' as we march forward to realise the promise of Beijing…the access to: justice, realisation of sexual and reproductive health, the end of violence against women and children, the achievement of a critical mass of women in leadership and public life, the greening of our economies and our very ways of life. We must spread the gospel of women's integration into sustainable development paradigms."
The conference is an opportunity to highlight the significant vulnerabilities that islands face while also bringing to the spotlight the ways in which this group of countries is making progress addressing global issues such as climate change, access to sustainable energy and environmental degradation.
During the various meetings and discussions of the conference which runs from 1-4 September, delegates focus on establishing new, genuine and durable partnerships between Small Island Developing States and the rest of the world on various issues including sustainable economic development, oceans, food security and waste management, sustainable tourism, disaster risk reduction, and health and non-communicable diseases, youth and women.
"We are here to seek a renewed commitment to small island developing states by focusing on practical actions and durable partnerships," said UN Secretary General Ban Ki-moon addressing the Third United Nations Conference on Small Island Developing States.
The outcome document, named Small Island Developing States Accelerated Modalities of Action – or SAMOA Pathway – was agreed by Member States earlier this year, an unusual occurrence for conferences of this kind. In the 124 points of the SAMOA Pathway, countries agree to strengthen their support for small island developing states.
Almost 300 multi-stakeholder partnerships, of which a quarter are new initiatives, have already been registered through the Small Island Developing States 2014 Partnerships Platform. Partners include 166 governments, 85 UN entities or inter-governmental organisations, and nearly 1,200 civil society organisations.
An official UN release said that these newly established partnerships have the potential to mobilise at least US$625 million, while financial commitments from existing partnerships for the period beyond 2014 amount to US$1.28 billion.
One of the new partnerships is the SIDS Lighthouse Initiative which seeks to raise some US$500 million to increase the use of renewable energy in this group of countries. Transitioning to renewable energy is of particular importance for small islands as the price of fossil fuels such as petrol is as much as 3 times the price in mainland markets.
Climate change has been a recurrent topic for small island developing states, who have been warning for decades of the consequences of this phenomenon. Many are already experiencing its impacts and are taking measures to prepare and adapt to extreme weather conditions and rising sea levels.
"The plight of small island developing states highlights the moral case for climate action," Ban said. "By failing to act, we condemn the most vulnerable to unacceptable disruption to their lives."
The slogan for the conference is: "Island Voices, Global Choices."
By Linda Straker
NOW Grenada is not responsible for the opinions, statements or media content presented by contributors. In case of abuse, click here to report.