A steady downpour of rain due to a tropical wave which passed over Grenada on Sunday left a trail of damage to public and private properties. Water flooded roads, buildings and open spaces and created landslides in some vulnerable areas.
On Monday as the water subsided and the cleaning up commenced, there was untold grief for some, while for others there was clear evidence that the habit and behaviour of humans contributed significantly to the floods.
"If only some people would put their garbage in bins and don't dump indiscriminately, the drains will not be blocked up, because when water wants to pass it will make room," said one person calling into a radio station.
The most significant landslide was just underneath the Presbyterian Kirk onto the area next to Sendall Tunnel. Large boulders and earth tumbled down on Sunday evening, blocking the Bruce Street exit of the tunnel near the hospital steps. The Royal Grenada Police Force (RGPF) reported no fatality nor injuries as a result of the landslide.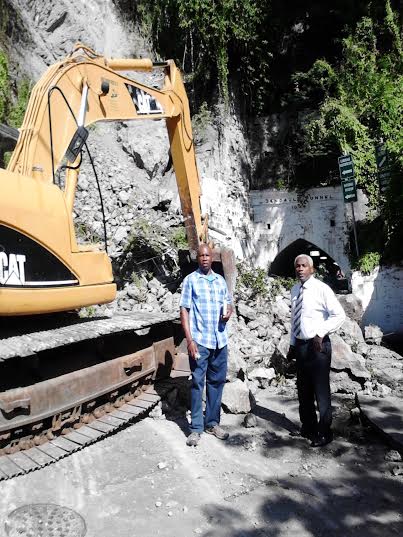 Acting Prime Minister and Minister for Works and Public Utilities Gregory Bowen, said that area was already assigned to benefit from a EC$2 million rock stabilisation project, and it was just a matter of time for the World Bank to release the funding to commence the work.
"The project involves the strengthening of that area with piles and other protection as was done to the area next the Rubis gas station, but now we have to deal with the massive slide," said Bowen.
An engineer by profession, Bowen said that a quick observation of the tunnel shows no sign of it falling apart. "This tunnel is of historic value to us and we will not destroy it, despite the massive landslide, it is still structurally sound," he said.
He also pointed out that the church's foundation may be affected significantly. The Kirk itself was destroyed by Hurricane Ivan in 2004. One of the challenges since the post-Ivan inspection, was the need to build a massive retaining wall to protect the land from sliding. Members of the congregation have been raising funds towards rebuilding.
By Linda Straker
NOW Grenada is not responsible for the opinions, statements or media content presented by contributors. In case of abuse, click here to report.