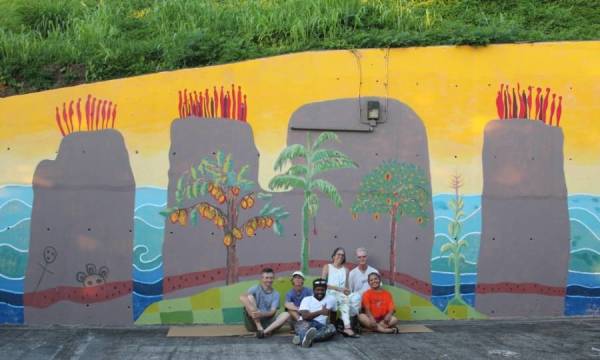 On 21 September the People's Climate March initiative targeted all world leaders to demand urgent action to safeguard our planet and our future. This global call to march for more action on Climate Change, was answered in Grenada, as only Grenada can.
Artist and art activist Victoria Slinger organised a group of likeminded individuals, and with the cooperation of Sharon Sage, President of the Grenada Society for the Prevention of Cruelty to Animals (GSPCA) who donated the use of the wall, a more permanent call to action was initiated.
Slinger said, "The reason for this mural is that on 21 September, all over the world people were asked to march to call for more action on Climate Change. I thought of doing a mural instead, so I emailed a number of people who I thought would be interested and Sharon immediately offered the GSPCA wall. We were not able to get it done by the 21st, but it is done now."
Over three days, a small group of volunteers created 'Paradise Lost' a mural designed by artist Suelin Low Chew Tung. The mural comprises elements from Grenada's Coat of Arms to speak to the possible negative impact upon the nation, by rising sea levels due to climate change. The mural's elements include references to Grenada's islands, the population crowded on the highest points, Amerindian petroglyphs, the Madonna Lily, Grand Etang Lake, as well as agricultural products of cocoa, nutmeg, maize and banana, plus the bougainvillea (the national flower), an armadillo and the national bird, the Grenada Dove.
Apart from Slinger and Low Chew Tung, volunteer painters included Anja and Kai Niermann, Xandra and Kirby Shaw, visiting Norwegian sculptor Lene Kilde and her daughter, and visiting Haitian artist Prensnelo.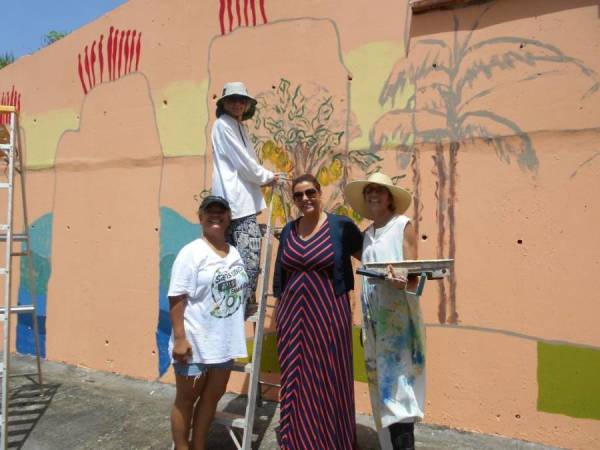 The creation of 'Paradise Lost' was supported by doantions from St George's University, Sissons Paints Grenada Limited, Insurance Consultants of Grenada Ltd, Ace Hardware/Bryden and Minors, Ramdhanny's Hardware, and Renwick, Thompson and Co.
The project received moral support from Minister of Tourism Alexandra Otway-Noel, as well as Nickolas Steele, Parliamentary Representative for the Town of St George and advocate for climate change. Minister Steele recently met with UN Secretary-General Ban Ki-moon, to exchange views on climate change, and Grenada's active participation in the Open Working Group on the Sustainable Development Goals.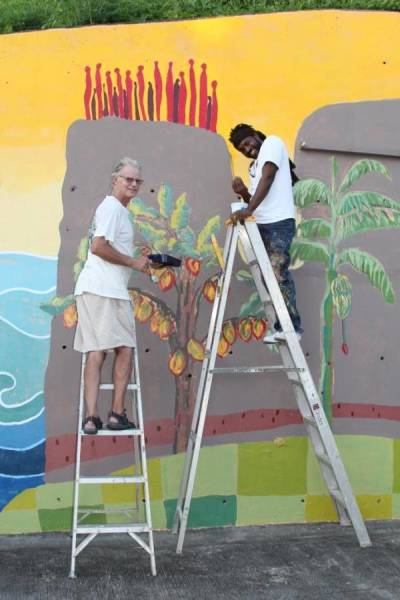 NOW Grenada is not responsible for the opinions, statements or media content presented by contributors. In case of abuse, click here to report.