The Sandals Foundation — the philanthropic arm of Sandals Resorts International, is proud to wrap up its 5th year anniversary in 2014 with huge success as shown in its 2nd annual report.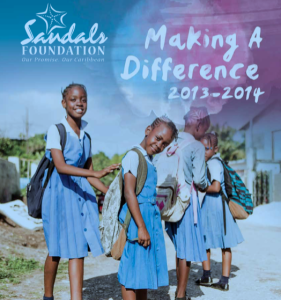 Since its inception in 2009, the Sandals Foundation has aimed to unite the Caribbean region with one common goal: to elevate its people and protect its delicate ecosystem under the pillars of community, education, and the environment.
Five years later, the Sandals Foundation has hosted more than 10,500 volunteers, raised US$3.6 million, and developed over 300 programs and initiatives across St Lucia, Jamaica, Antigua, The Bahamas, The Turks & Caicos Islands, Grenada and Barbados valued at over US$16 million.
"As we celebrate our 5th anniversary, I am extremely proud of the dedication of our team members, the visitors to our beautiful islands and the commitment of our partners," says Heidi Clarke, the Sandals Foundation's Director of Programs.
"This year we implanted over 75 projects impacting 60,247 people."