With funding support from the US-based Seacology Foundation to the Grenada Red Cross, hundreds of trees were planted in the Telescope Beach area in observance of World Wetland Day which was observed in Grenada last Sunday.
2 February marks the signing of the Convention on Wetlands in 1971, in the Iranian city of Ramsar on the shores of the Caspian Sea. World Wetlands Day was celebrated for the first time in 1997 and has become an observance by all signatories to the Ramsar Convention.
Grenada is a signatory to the Convention and locally it came into effect on 22 September 2012, making Grenada the 162nd Contracting Party to Ramsar.  One of the goals of the Ramsar Convention is to reach a protected area of 250 million hectares by 2015.
In Grenada the day was observed on 8 February under the theme "Wetlands for Our Future – Lets use them wisely, together." As part of the celebration, and to promote the important value of wetlands, the Grenada Red Cross along with a number of organizations and individuals from the Ocean Spirits Inc., Grenada Fund for Conservation as well as residents of Telescope and surrounding areas came together in a joint volunteer effort to replant the denuded wetland area.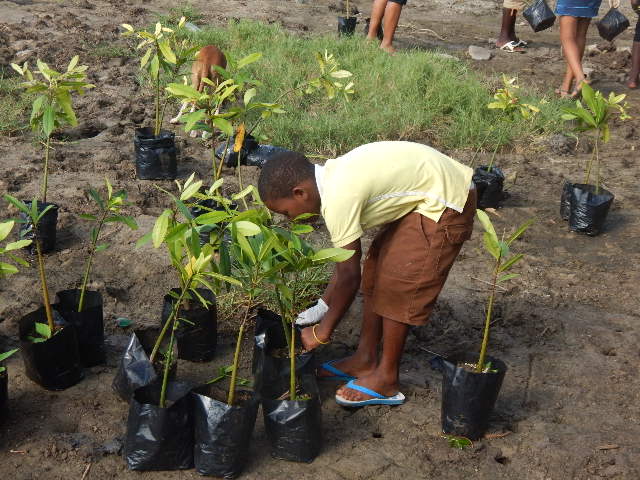 "In the spirit of saving the wetlands over 200 trees were planted out during the day, among them red mangroves, sea grapes and almonds. The red mangroves seedlings were taken from the Telescope Mangrove Propagation Nursery, which was established to provide planting materials for restoration projects around the island," said a press release from the volunteers and the groups who participated in the initiative.
"As you can see, the coastline around here is really devastated and I think it is important that we plant these mangroves because the mangroves play a very important part in keeping the coastline together," said Ocean Spirits representative – Kester Charles.
"I am happy to see what we are doing today because it helps protect the coastline which we rely on tremendously and which also benefits the local community," he added while explaining that over the years, the coastline has been seriously eroded, partly by hurricanes Ivan and Emily and partly by illegal removal of sand. "So I want to take the opportunity to applaud this initiative by these local organizations," he said.
The resident said that he believes that the trees will prevent or significantly reduce the amount of erosion that is taking place on the coast in which "we need to have some protection".
Since enforcing the Ramsar Convention Grenada's first obligatory Ramsar Site is the "Levera Wetland" in St. Patrick.  As part of the convention, authorizing parties such as Grenada are encouraged to post signs at the Ramsar-designated site, prominently displaying its status as a "Wetland of International Importance''.
NOW Grenada
is not responsible for the opinions, statements or media content presented by contributors. In case of abuse,
click here to report
.