Grenada nationals and friends of Grenada, Carriacou and Petite Martinique braved the inclement weather of –19°C, with blowing snow that even caused the closure of some highways and bridges, to attend the celebration Gala event for Grenada's 41st Anniversary of Independence at Eveagreen Reception Hall, Montréal, last Saturday night, 21 February.
The Grenada Nationals Association of Montréal (GNAM), in collaboration with Grenada's Honorary Consul in Montréal, Mr Leonard Wharwood Jr., arranged a most beautiful evening of togetherness in keeping with the 2015 theme, "Moving Forward in Unity to Build a Stronger Nation. The impact of that theme resonated throughout the hall and was reinforced during the address by our invited keynote speaker for the evening, His Excellency Derrick Cecil James, Grenada's Ambassador for Humanitarian and Diaspora Affairs.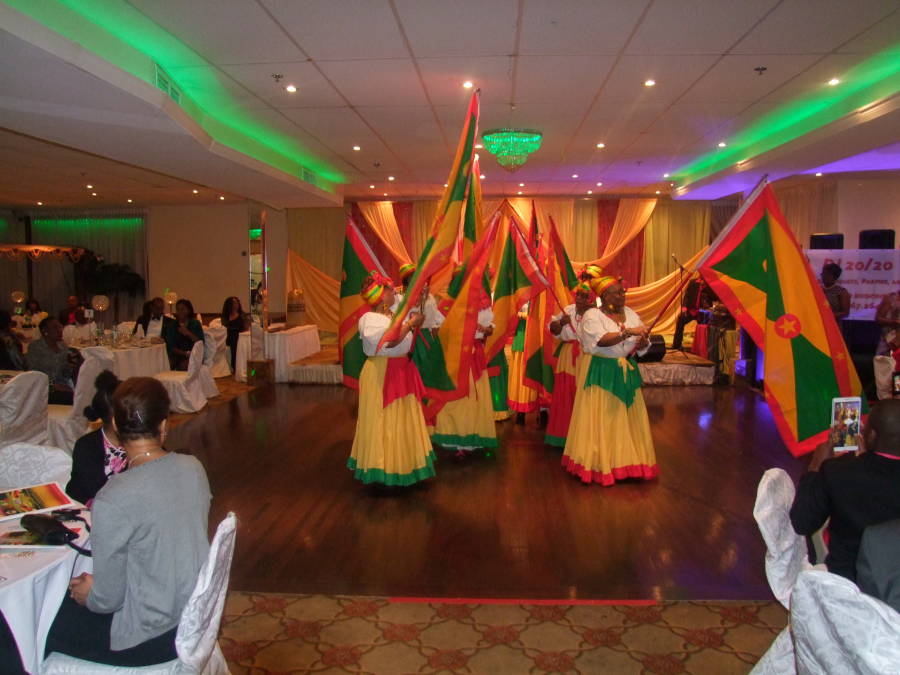 Attendees to the celebration included City Councilor Mr Marvin Rotrand and Mrs Rotrand, Jamaica Honorary Consul and businessman Mr George Grant,  Guadeloupe-born business woman and journalist Ms Erika Peter, and Mrs Gemma Raeburn-Baynes and husband Mr Bernard Baynes from "A Taste of the Caribbean". The MC for the evening was Tesfa "Aki" Peterson.
The entertainment began with the entry of several massive Grenada flags borne by the colourful entrance of the Grenada Ensemble in their national colours, singing "Grenada may God bless you". The over 225 guests were enthralled with this entrance, raising their voices in unison with the Ensemble and singing one of our most favored national songs. "I am truly energized as we move into the festivities to mark our 50th anniversary" remarked Karen Parke-Bernard, President of GNAM.
Four persons were listed for special recognition for volunteer service to the community and Grenada but only three names was actually printed. The fourth name was omitted as a "surprise awardee".
Osbert Greenidge was recognized for over 30 years of service to the community and an active member of the Grenada Nationals Association. Throughout the years, he held several positions including President, Vice President, Treasurer, and Secretary; Shawn Browne, a former professional basketball player, was recognized for his continued dedication as a community worker. Shawn stands as a pillar and role model to our youth in Montréal, and we are truly blessed to have him as part of our community; Mr Dennis Norman Bonaparte was recognized posthumously for service to the Grenadian community in Montréal and in Grenada. We were denied having this stalwart in our midst as he transcended to eternal rest 22 days ago.
His wife Bertha Pitt Bonaparte, and his family, accepted the award in memory of him. Dennis founded the GNAM 50 years ago, and was mentor to numerous newly arriving Grenadians to this new land we now call home. As a community, we will be forever grateful to him his service, insight and leadership.
The hall was abuzz with excitement during the brief bio of the person slated for the surprise award. The name Theodore H. Baize was met by thundering applause and shouts of "well done", "well deserved" as Ted was invited to the podium to receive a plaque for his dedication and commitment to Grenada, Carriacou and Petite Martinique, through selfless contributions and sacrifices.
The applause continued during the congratulatory session by the President of the GNAM, Karen Parke-Bernard, Ambassador James, and Honorary Consul Wharwood.
The night took a different turn when Elimus "Inspector" Gilbert, the headliner entertainer for the evening, took to the stage. He transformed what was a staid formal evening into a massive party. After over 30 years of huge hits, this popular icon of our time, knew how to fill the dance floor within 30 seconds, and the party continued for another 2 hours, buoyed by the sounds of DJ 20/20.
Other entertainers for the evening were Byron "Doggies" Cameron, Paul "Sugarman" Nerverson, 'Daddy Ghost", Delter Antoine, Twayne & Shakeem David–Charles and Jenna Noel.
Grenada Nationals Association of Montréal, Inc.
NOW Grenada is not responsible for the opinions, statements or media content presented by contributors. In case of abuse, click here to report.