Thursday, 12 February, was an exciting day for two organizations that were recipients of some significant contributions from NICL General Insurance Company Ltd.
The first institution, Happy Hill Primary School, received a selection of art supplies valued at EC$350 for the school's art programme. Additionally, cash prizes were awarded to the top placing students, as well as other entrants who participated in NICL's art competition, which was held late last year.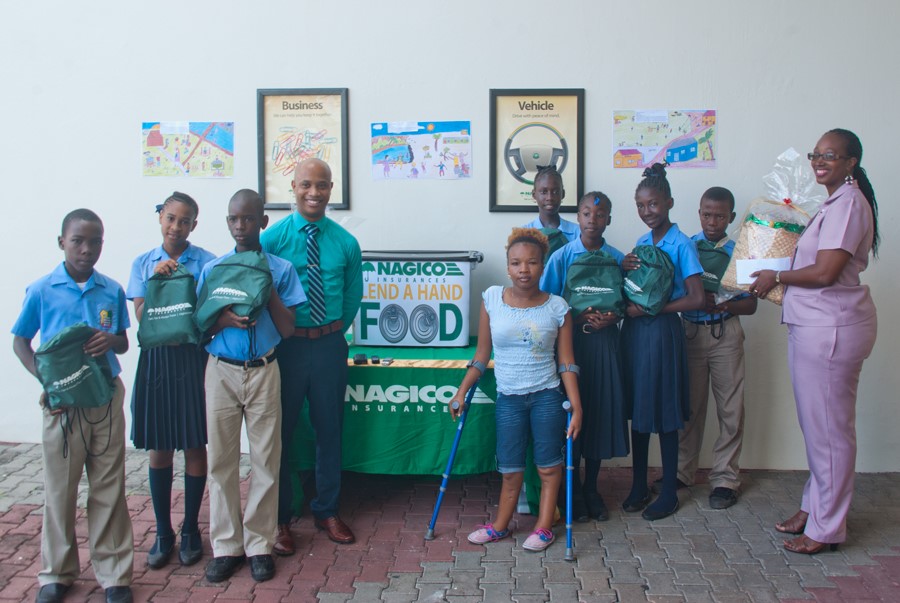 Commenting on the participation received from the school, Fabian Walthrus, General Manager of NICL commended the students for their outstanding participation and the quality of the art entries. "We were quite pleased with the level of participation from the school and the pieces submitted by all the students. As such, we extended our prize offerings to include other students who participated in the competition, not just the top three places" he said.
Capturing the top three places were 11 year old Jasmine Cummings, 10 year old Shamal Mitchell and Josh Alexander.
Jasmine Cummings, expressed her delight at being one of the top three selected drawings "I got ideas for my drawing from things I saw in my community. I am very happy that my drawing is one of the final three." She said.
Of the works submitted, an overall winner will be selected from the top three art pieces and will be featured in the company's 2016 calendar, which is distributed across the 19 territories in which NICL's parent company NAGICO Insurance(s), operates. The competition, which ran from November 2014 to January 2015, is the first of what will likely become one of the initiatives on NICL's annual calendar of events in Grenada. This will be in addition to the company's contribution to their parent company's title sponsorship of the WICB NAGICO Super 50s cricket tournament, which recently came to a close in Trinidad on January 25 2015.
"Arguably all children possess an intrinsic ability to dream and imagine, and typically express these abilities in the way they dance, draw or sing. Sadly, however, as we get older, most schools seem to place the emphasis predominantly on the language arts and other subjects such as mathematics, the sciences or business. NICL is therefore happy to assist with fostering artistic talent from such an early age. We are certain that the students will benefit tremendously from the school's art programme and the opportunity to develop their talents in this field. We are looking forward to seeing the results of the programme and even greater participation in the next competition." Mr Walthrus further stated.

At the same event, NICL also presented a number of food items to the Grenada National Council for the Disabled (GNCD), to assist with the organisations' community outreach initiatives. Over December and into early January, in keeping with the holiday spirit of sharing, NICL coordinated a food drive to collect various items for donation to a local charity. GNCD was the charity of choice.
"We strategically selected GNCD to receive these items due to the work they do in various communities for persons living with disabilities. Even more importantly, they assist persons living with disabilities and encourage them to take responsibility for their own well-being by providing much needed resources. Training them in various skills and raising local awareness so that these persons can be included in everyday life. I am confident that the items collected from our food drive will be well-received and go a long way in assisting GNCD in their efforts to enrich the lives of persons in the communities they serve." Mr Walthrus noted.
NICL General Insurance Company Ltd., which is a member of the NAGICO Group Of Companies, first opened its doors in Grenada in January 2012, with a small staff of three providing a variety of general insurance products including motor, homeowners and liability coverage. Since then the company has slowly expanded its operations with increased staff, and plans to extend its network and product offerings in the near future. The company is also highly rated by the leading international ratings company, AM Best.
NICL firmly believes in supporting the communities in which they operate and plans to continue its involvement to further enrich the lives of many across our tri-island state.
NOW Grenada
is not responsible for the opinions, statements or media content presented by contributors. In case of abuse,
click here to report
.