By Linda Straker
Prime Minister Dr Keith Mitchell has disclosed that the spouses of some public officials were very reluctant to declare their assets, when public officials had to engage in the practice for the first time 2014.
"We note the complaints of reluctant spouses, for example; who show no responsibility or fault of their own, have been called on to make financial declarations and have their private life made public," he said, while delivering the feature address at the opening ceremony for the inaugural Commonwealth Caribbean Regional Conference for Heads of Integrity Commissions and Anti-Corruption Bodies, which began at the the Grenadian by Rex Resort on Monday.
"As a Government, we have heard their cries, but we know that we have to lead by example," he said, while admitting that Government is aware that the work of the Commission is not always popular, but it is necessary.
2014 was the first time that all parliamentarians as well as a number of senior public servants including law enforcement and legal officers and their spouses, declared their assets and liabilities. "As Prime Minister, understanding the necessity of leading from the front, I was the first to declare my assets, and I also did so publicly," he told the participants which represents 21 regional territories.
He told participants that his Government is committed to ensuring that no one would be immune from the Commission's work, and we embraced that as best as we could.
"In that spirit, our Government officials went ahead and made declarations as mandated by the Act. I therefore want to commend those declarants who, despite their opinion that the filing of declarations requiring detailed information on their private lives was unconstitutional, or too expensive, they however complied with the request made of their offices," he said.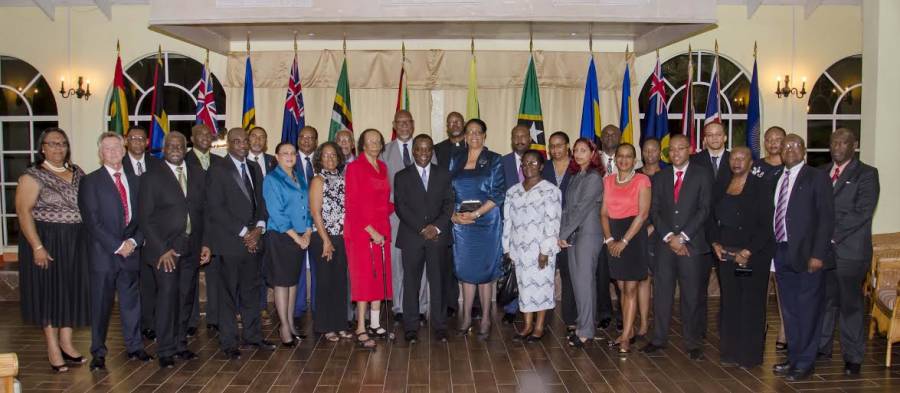 The conference in Grenada is an initiative of the Commonwealth Secretariat in London as part of the Secretariat's effort to combat allegations of corruptions in Commonwealth member nations. The African Commonwealth nations had already engage themselves in similar efforts and according to Dr Roger Koranteng, Advisor, Governance and Anti Corruption at the Secretariat, this has already African states by having improve ranking in the annual Transparency International report.
In his address at the opening ceremony, Dr Koranteng said that corruption is eating away development in all corruption, and it cannot and should not be ignored. "Crimes of corruption are crimes against humanity," he said, while pointing out that corruption robs citizens of public trust.
Governor-General Dame Cécile La Grenade declared the conference open. The theme for the one week conference, of which a main objective is to share experiences and strengthen networking among Regional Integrity Commission offices and anti-corrupution units is "Strengthening integrity commissions and anti-corruption bodies in the commonwealth Caribbean."
NOW Grenada is not responsible for the opinions, statements or media content presented by contributors. In case of abuse, click here to report.