Residents of the Top Hill Senior Citizens Home and Staff at the Princess Royal Hospital are elated for the contributions received from 2 New York based organizations.
The Crown Heights Gospel Church and the St Matthias Charity St Vincent contributed over US$8,000 in toiletries and health care products to the two institutions.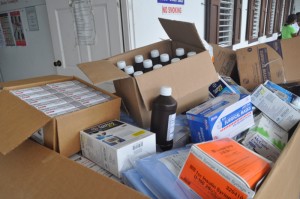 Pastor Cyprian Joseph of the Crown Heights Gospel Church, who is originally from L'Esterre, Carriacou, along with member of the St Matthias Charity Robert McBonnet, thanked all those who have been instrumental in ensuring this gesture became a reality.
Joseph said that the items contributed were done in collaboration with District Doctor Tyron Davis, while McBonnet noted that the process of shipping and clearing the items was rather smooth compared to other countries.
McBonnet further stated that they are hoping to continue the relationship with the Princess Royal Hospital and the Top Hill Senior Citizens Home; and is expecting to return with a larger contribution in the form of a 40 ft container.
Hospital Administrator Marissa Alexis, and Acting Matron of the Top Hill Senior Citizens Home Clavia McLean, both expressed sincere thanks and appreciation for the much needed items.
Alexis said that some of the items will be distributed to the community clinics in the twin isle parish of Carriacou and Petite Martinique.
Parliamentary Secretary within the Ministry of Carriacou and Petite Martinique Affairs Senator Norland Cox witnessed the handing over of the healthcare items.
Ministry of Carriacou and Petite Martinique Affairs
NOW Grenada
is not responsible for the opinions, statements or media content presented by contributors. In case of abuse,
click here to report
.