60 Grenadian scholarship applicants, received awards for study at home and abroad, at an award ceremony at the Grenada Boys Secondary School auditorium, on 30 July 2015.
"I'm overwhelmed because my brother has already got a scholarship, a couple years ago, to Cuba, so he told me his experience and how it went and it's kind of encouraged me a bit, to do the same, to follow his footsteps," said Ezra Graneau, who received a scholarship award for Architecture Studies, at Southeast University, in China, where he will be for the next 6 years.
Scholarships were awarded for undergraduate studies, at the St George's University (SGU), universities in Trinidad & Tobago, China and the United Kingdom.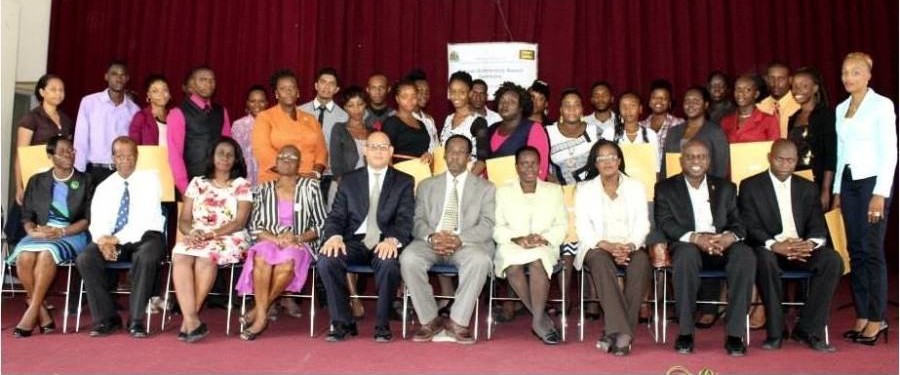 Kadem Mc Gillivary, recipient of a scholarship to continue pursuing his Bachelor's Degree in Electrical & Computer Engineering, at UWI St Augustine in Trinidad, said, "Financially it has been a burden for me to sustain myself, but with this scholarship I've now been awarded, it will greatly, greatly help me in achieving my academic dreams."
Nazir Jasat, who received a scholarship to continue his Bachelor's Degree, in Accounting & Business Management at SGU, said "I would like to take this opportunity to thank the Ministry of Education, for granting me this opportunity — this privilege — and it means that I just have to continue working harder to fulfill my goals and their goals and my family's goals and objectives."
Mrs Jacinta Joseph, Permanent Secretary, with responsibility for Human Resource Development, told the recipients, "We are ready to journey with you, as you begin your university life. We are here to continue to serve you. Please call on us at any time." Joseph said that the scholarship awards fit well with Government's thrust and commitment to youth empowerment, by providing youth with avenues and skills that will contribute to an increased standard of living, while at the same time contributing to national development.
Masha Phillip, recipient of a 4-year scholarship to SGU, to study Tourism & Hospitality Management, said she felt extremely proud and grateful. She said, "I have two kids that I figure I need to set an example for and when I checked my life I realized that the position I am at right now, I am not happy with it. I would like to develop myself, to contribute to my self, my family and my country."
In his address at the award ceremony, Mr Colin Dowe, Associate Dean of Enrolment & Planning at SGU said, "We are indeed heartened that we can contribute in some way to your continued development, as you embark on the next stage of your journeys."
The coveted Commonwealth UK Scholarship was awarded to Arvin Pierre, who will pursue a Masters Degree in Biotechnology, at the University of Glasgow, in Scotland. Pierre, who feels honoured to be selected, said, "A UK education is one of the best that you can get throughout the world and the qualification that I would get from it I am really looking forward to using it for the development of myself and, by extension, the development of Grenada."
In his address, Minister for Education, Hon. Anthony Boatswain, thanked all stakeholders who assisted the Government in providing the scholarships. He encouraged the recipients to value the scholarship, knowing that there are others applicants still awaiting their turn, and to return and serve their country, upon completion of their studies.
Urging the recipients to do their very best, The Education Minister said, "You have achieved yet another important milestone, in your journey along the education highway."
Grenadian journalist, Sophia Phillip, recipient of a scholarship to pursue her Bachelors Degree, in area of Communications, in China, expressed her joy at receiving the award. She said, "It has always been my dream to get a scholarship to go overseas and further my studies. I've knocked on many doors. I have applied for scholarships more than once and, through the grace of God, I have finally secured one."
Madam Ou Boqian, Ambassador, Embassy of the People's Republic of China said, "I would like to take this opportunity to congratulate all those awardees of scholarships. This is an award you do deserve."
The Ambassador imparted many words of wisdom to the students, urging them not to be singularly focused on their studies, but to take the time to learn and experience the culture of the country they will study in, as this will assist in their all-round development.
With regard to studying in China, Phillip said, "What could be better than going into the unfamiliar. We already know what's at home. There is somewhat limited area for growth when you are in the familiar. Go out there and expand yourself — expand your capabilities. You might actually discover who you are, when you are away from home."
A separate award ceremony for recipients of awards for study in Cuba, will be held in mid-August, mainly to accommodate the involvement of Grenada's Cuban representative, who is currently out of the island. Some additional awards & economic cost bursaries, which are sponsored by the Government of Grenada, for at least 36 students at UWI, will also be presented then. The bursaries constitute 80% of the tuition costs. Approximately 206 scholarships will be awarded this 2015/2016 academic year.
GIS
NOW Grenada
is not responsible for the opinions, statements or media content presented by contributors. In case of abuse,
click here to report
.