Opportunity of a lifetime extended to musicians of Grenada, Carriacou, and Petite Martinique
The Pure Grenada Music Festival seeks to assist in the development of musical talent in Grenada, among several other stated objectives. This includes recognising talent, nurturing it and providing the exposure and structure it needs to flourish.
Delivery of this mandate has begun with the launch of the Project Ready for the Big Stage. Ready For the Big Stage is a call to all bands/musicians within Grenada, Carriacou and Petite Martinique to participate in a two-stage selection process, which offers them a chance to perform at the Pure Grenada Music Festival in April 2016.
In the first stage, all bands/musicians are asked to create a short video a live performance of their band doing an original song (made specially for this application and not older then 1 month). The video must be uploaded to YouTube or Facebook, and the link forwarded with Band/Musicians' Name, Genre, Contact Person's Name, Address, Email, Telephone, and Number of Musicians in Band (listed with instrument & name), to email address: [email protected]. While the quality of the recording is not crucial to selection, final submission date for videos is 30 September, 2015.
Videos will then be uploaded to the Pure Grenada Music Festival Facebook page from 1 to 14 October 2015, so that the public can "like" their favorite video. The six videos with the most likes will be entered into phase two.
In the second phase, the selected bands will be required to perform for at least 20 minutes at a concert environment for which half the songs performed must be band originals. Additionally, no playbacks are allowed. Selection at this stage will be via judging panel selected by the Pure Grenada Music Festival and again public vote. The band with the most points will be selected to perform during the Pure Grenada Music Festival.
This exposure is not offered in isolation, but, engineered within a structure that provides adequate support for the journey and transformation process that allows a musician to be truly "Ready For The Big Stage." Within this project therefore, is a mentorship programme through which each band will be assigned individuals, hand-picked by the PGMF Steering Committee with experience in and knowledge of music and the industry. These individuals are expected to pass on their knowledge, and guide the development of the musicians through honest and constructive feedback, encourage implementation of appropriate strategies for reaching professional goals, self-awareness, and provide inspiration for upcoming talent that will facilitate reach beyond their perceived limitations. The bands chosen to perform at the festival will also be financially compensated.
Increasing momentum in support for the festival and this new initiative was evident by the presence of the Minister for Tourism – Hon. Yolande Bain–Horsford; Minister for Culture – Hon. Brenda Hood; confirmed and potential seed funders of the festival, also known as Founders; individuals with voluntary interest, local musicians and members of the media.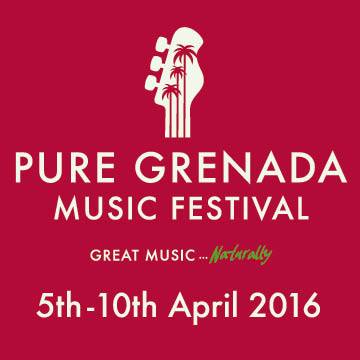 The Pure Grenada Music Festival will, over 6 days, showcase the island of Grenada via 4 distinct locations. The Festival Village and Main Stage will be located on the spacious green at Port Louis; the VIP Stage at the exquisite Calivigny Island; the Floating Stage in the picturesque St. George's Harbour – the Carenage; and the Mobile Stage which will feature free concerts in the towns of Grenville and Gouyave located North-East and West of the island, respectively.
Local artistes will perform alongside those more internationally renowned to include soul singer Joss Stone (UK); folk band Madison Violet (Canada); reggae superstar Etana (Jamaica); international reggae band Steel Pulse (UK); rising phenomenon, Jesse Royal (Jamaica); world music sensation Angélique Kidjo (Benin); and contemporary jazz artist Eddie Bullen (Grenada/Canada); jazz/soul singer and songwriter Zara MacFarlane (UK); steel pan extraordinaire Andy Narrell; and acclaimed musician Hendrix Ackle.
NOW Grenada
is not responsible for the opinions, statements or media content presented by contributors. In case of abuse,
click here to report
.