Saturday, 19 September 2015, is the 30th Anniversary of the International Coastal Cleanup.
It's time for all Grenadians and residents to pledge to take on the trash! The International Coastal Cleanup (ICC) is fast approaching and we are asking for your help! We need community members, community leaders and sponsors to make this year's ICC the biggest Grenada has ever seen! The ICC is a volunteer effort geared towards the removal of debris from our marine environment.
The marine environment is a critical source of food and income for small islands and we need to keep it clean! Information collected at each cleanup location can help design solutions to combat illegal garbage disposal both locally and regionally. Data collection and education is a key component of this event.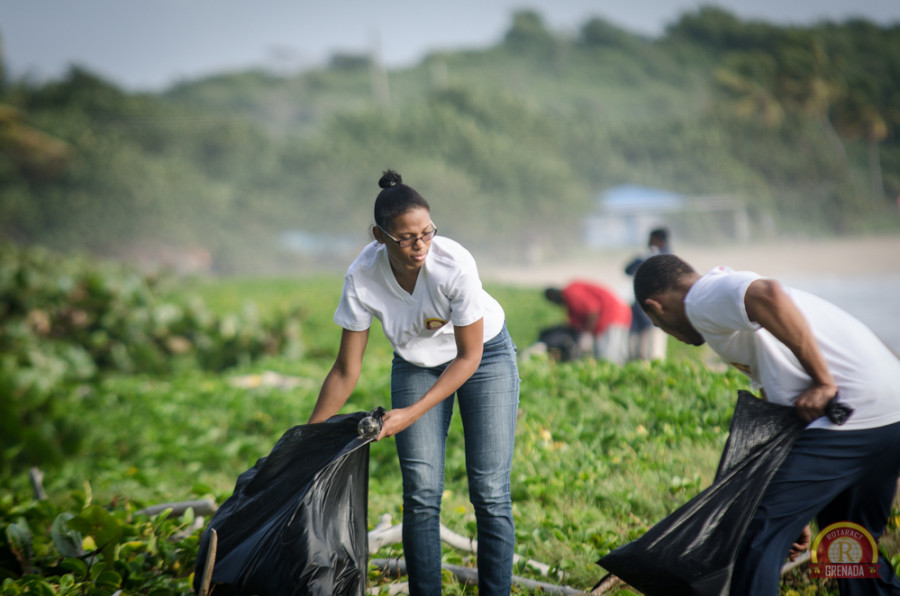 Last year's Cleanup involved more than 560,000 volunteers who picked up more than 16 million pounds of trash in 153 countries around the world— the largest volunteer effort of its kind! You can be a part of this year's event. In 2014 in Grenada, Carriacou and Petite Martinique over 100 volunteers collected nearly 4,000 pieces of garbage! Initiatives like the ICC, aim to radically reduce the amount of illegally disposed garbage in the environment and we need YOUR help!
Trash on roadsides, rivers and beaches compromises Grenada's beauty. Trash is not only a human health risk but negatively affects or kills birds, fish and other organisms which we rely on for recreation, food and many livelihoods. Cleaning up illegally disposed of waste also uses up financial and human resources that could be far better used on other things.
You can organize a local event, attend a local cleanup or donate materials to support a cleanup effort. Everywhere in Grenada is close to the coast, so the cleanup can be anywhere! Cutting trees, bushes and grasses is not part of this initiative and we strongly discourage this (owing to the crucial importance of vegetation). The burning of garbage is strongly discouraged as a result of poisons that burning may release.
Support for the 2015 ICC in Grenada has already been pledged by the St. George's University student group, ECO (who will be playing a key coordinating role), the Grenada Green Group (G3), Ocean Spirits, Eco Dive, The St. Patrick's Environmental Community Tourism Organization (SPECTO), the Environment Division, Ministry of Agriculture, Lands, Forestry and Fisheries, the United Nations Development Program (UNDP), the Caribbean Youth Environment Network (CYEN).
The ECO group has teamed up with Eco Dive and will run a terrestrial and underwater cleanup on Saturday, 19 September. Ocean Spirits will be working with the Hermitage Government School. The Environment Division, Ministry of Agriculture, Lands, Forestry and Fisheries, with funding from UNDP will be reaching out to community groups in all parishes in collaboration with CYEN to provide support where necessary to conduct their own clean ups.
Please contact us and let us know what you will do for this year's Cleanup! Events will be held over the next two months. If you'd like to organize a Cleanup in your community or support a Cleanup, please contact Country Coordinator Dr Clare Morrall for further information, [email protected] or Mr Roopram Rajwant, Ministry of Environment @ 440 2708 Ext: 2007 / [email protected] for materials.
We Can All Help to Keep Grenada Nice and Clean!
NOW Grenada
is not responsible for the opinions, statements or media content presented by contributors. In case of abuse,
click here to report
.