This year's Great British Spiced Chocolate Challenge (GBSCC) came to a dramatic end this weekend at The Chocolate Show in London with a 19-year old amateur chocolate maker wowing the judges and taking the top spot — and the trip of a lifetime to the 'Spice Island' Grenada for the Chocolate Festival next year.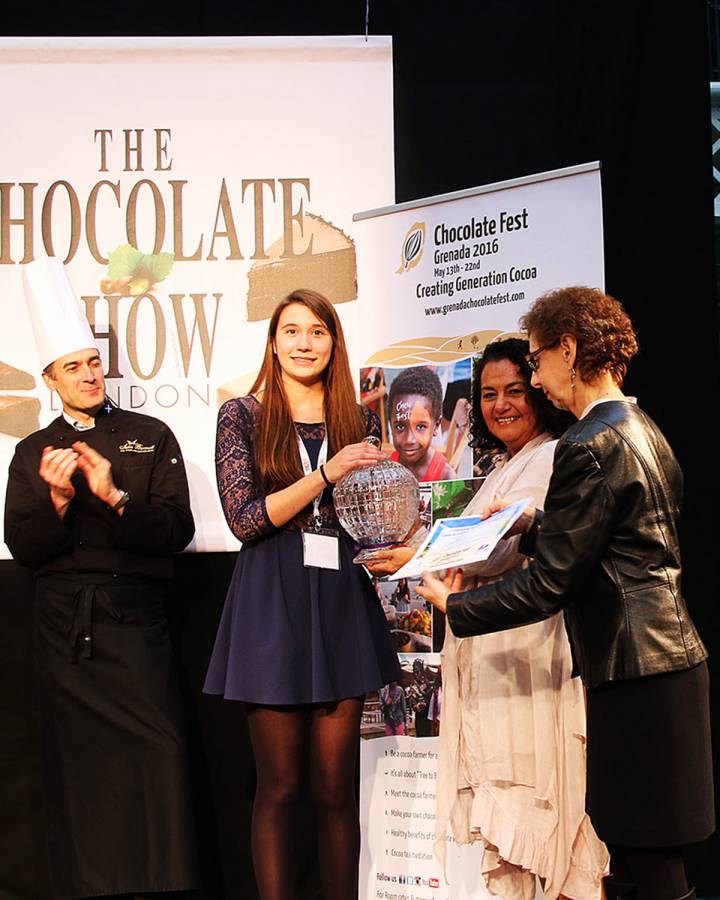 Zara Snell, a student at the National Baking School, won with her Moroccan Rose chocolate which the judges — ranging from culinary editors to a TV chef — thought was "absolutely delicious" and from a chocolate maker "who really knows what they're doing". All the tasting was done blind and the judges didn't know the identity of the 5 finalists until they had made their decision.
There were three stages of judging throughout the competition, which began back in the summer and attracted over 70 entries. The aim of the competition had been to create a spiced chocolate, from a choice of over 200 spices provided by spice company Seasoned Pioneers.
The panel of finals judges was headed by Joanna Simon, Wine & Food Editor at House & Garden, with Andrew Baker, Deputy Editor – Weekend, Saturday Telegraph; Iain Burnett, The Highland Chocolatier and winner of last year's Great British Salted Chocolate Challenge; Arun Kapil, spice connoisseur, author, chef and regular participant on TV's Sunday Brunch; and Felicity Spector, Deputy Programme Editor, Channel 4 News.
Zara from Petersfield, Hampshire, who was 'highly commended' in last year's GBSCC said she was delighted to win. "I didn't think I'd make it through the first round! I'm so looking forward to heading off to Grenada for next year's Chocolate Festival – I've found it really inspirational to work with the spices for this year's competition and can't wait to try them out over there and meet the farmers themselves."
The top prize was sponsored by the destination of Grenada with their travel partner British Airways. Sharon Bernstein, director UK & Ireland from the Grenada Tourism Authority said Zara's success was excellent news. "Part of our role in the UK is to encourage people to better understand Grenada's chocolate and spice industries and with Zara, at 19, just starting out, she will experience all that at the Grenadian Chocolate Festival for herself and it will influence her for the rest of her career. We couldn't be happier!"
Second place — and £500 voucher for the Barry-Callebaut Chocolate Academy at Banbury — was Barry Johnson, principal chocolatier at Rococo Chocolates in London. His chocolate was a wonderful cigar shape — Hazelnut Orange Lebkuchen Spiced Praline — which the judges said had "a burst of flavour" and was "very Christmasy". While understandably disappointed not to win, he was pleased the judges had picked up on the Christmas angle. "This was the first time I'd entered the competition and I wanted to try and be imaginative with the ingredients — it's designed to be Christmasy," he said. "I'm delighted for Zara though — she's done a brilliant job!"
Third place was another professional chocolatier, Paul Wayne Gregory, famed for his chocolate sculptures including of Philip Schofield! His chocolate was Star Anise & Cumin with a Hint of Nutmeg.
All 3 top chocolates are on sale in Selfridges Chocolate Hall from now till Christmas www.selfridges.com.
The two further finalists were: Amber Raz (Little Black Cat), the other amateur in the final (whose day job is as a human rights campaigner!) with Cacao Joon and Jamie Kemp from JK Fine Chocolates with Cassia Sumac Triple Truffle.
The GBSCC wasn't just about the competition, with a pop-up restaurant CACAO at The Chocolate Show, a specially-commissioned Tree of Spice to show visitors spices from Grenada in their raw state as well as being able to buy the spices themselves and, of course, the Challenge's very own a cappella band, The Spice Boys who performed during the show.
NOW Grenada
is not responsible for the opinions, statements or media content presented by contributors. In case of abuse,
click here to report
.